Renesas Electronics Announces Organizational Reforms for Accelerated Growth
Towards Realizing "One Global Renesas" by Acquiring Intersil
Tokyo, Japan

, (PresseBox) -
Based on the business integration of the recently acquired Intersil Corporation ("Intersil"), Renesas Electronics Corporation ("Renesas", TSE:6723), a premier supplier of advanced semiconductor solutions, is now in the process of a step-by-step reform of the business organization with three business units to accelerate growth. Renesas plans to launch the new organizational structure that strengthens its position as "One Global Renesas" by July 2017.

1. Background to the organizational reform

In October 2013, Renesas embarked on the Reform Plan aimed at building a reliable corporate structure capable of generating profit. It completed those activities in March 2016 and achieved its goal of creating a stable business foundation. Now, to thrive in the global marketplace, on November 2, 2016 Renesas announced its "mid-term growth strategy" and is currently working to expand and strengthen its business portfolio for accelerated growth. One part of this effort was the decision to acquire Intersil, which is engaged in the development, manufacturing, sale, and service of analog semiconductor devices such as power management ICs and high-precision analog devices. As of February 24, 2017, Renesas had completed this acquisition of Intersil.

Moving forwards, Renesas will be working to integrate Intersil into its operations, and is aiming to move beyond its Japan-centric business management and will be targeting becoming a truly global company as "One Global Renesas", a company that operates as a global organization without being bound by region.

In addition to this integration with Intersil, Renesas will be fortifying its current structure, step by step, which is classified by functions, such as sales & marketing, business units, etc., into an even more robust organizational structure by: renewing the business units by expanding and clarifying the roles and responsibilities; uniting the supply chain function; and executing strategic business reinforcement in specific regions.

(1.1) Reorganization into three business units (as of April 1, 2017 and July 1 2017)

With the integration of the Intersil operations, Renesas will reorganize the 2nd Solution Business Unit, which has been responsible for Renesas general-purpose business, into two business units; one will be a "business unit that focuses on application specific solutions" and the other will be a "business unit that focuses on a wide variety of end market solutions and a broad set of customers" and is expected to generate significant synergistic growth from the integration with Intersil. These two business units will be referred to as the "Industrial Solution Business Unit" and the "Broad-Based Solution Business Unit", respectively. In addition, the 1st Solution Business Unit that is responsible for automotive products will be renamed to the "Automotive Solution Business Unit". This will change Renesas' structure from the previous two-business units to one with three business units.

Of these three business units, the "Broad-Based Solution Business Unit" will start operations on April 1, 2017 and aims to quickly start achieving synergistic effects with the Intersil businesses (Note 1).

Furthermore, as of July 1, 2017, Renesas will transfer sales and marketing divisions to each of these three business units and transfer both the responsibility for profitability and the ownership of their respective businesses explicitly to within each business unit. At the same time as expanding the range of responsibilities of the respective business units to include everything from sales and marketing through to design and development, this will make rapid and consistent decision-making possible.

(1.2) Establishment of the new Supply Chain Management Unit (as of July 1, 2017)

Since the supply chain management related functions, such as manufacturing strategy, manufacturing and investment management, production directives, and materials procurement, are currently spread across the company, Renesas will establish the new "Supply Chain Management Unit" on July 1, 2017. This aims to unify Renesas' strategy from manufacturing to procurement, speeding up decision-making and achieving overall optimization of supply chain management whilst strengthening the system for the stable supply of Renesas products to customers.

(1.3) Creation of the new "China Business Unit" (as of March 1, 2017)

At the same time as aiming for a global organization centering around the business units that have integrated Intersil operations, with respects to China, which has full of opportunities for growth, Renesas has decided that individual activities with appropriate regional characteristics will be necessary. Renesas has therefore established a new "China Business Unit" on March 1, 2017 and have begun strengthening efforts that are specialized for local conditions. A Renesas Senior Vice President (Mr. Tomomitsu Maoka) will be stationed there as the head of the China Business Unit and will strengthen efforts to unify local sales, marketing, design and development, and production functions and aim at strong growth.

(Note 1) The Broad-Based Solution Business Unit will be established in April 1, 2017 and the current 1st and 2nd Solution Business Units will be renamed to the Automotive Solution Business Unit and the Industrial Solution Business Unit, respectively, as of July 1, 2017.

2. New Organizational Chart

Based on these three elements of the new organizational reform Renesas will move to the new organizational structure in the two steps as shown below.

(Note 2) Acting Executive Vice President and CFO
(Note 3) Acting Senior Vice President
(Note 4) Acting Executive Vice President
(Note 5) Acting Executive Vice President and President, CEO and Director of Intersil Corporation
Renesas Electronics Europe
Renesas delivers trusted embedded design innovation with complete semiconductor solutions that enable billions of connected, intelligent devices to enhance the way people work and live - securely and safely. The number one global supplier of microcontrollers, and a leader in A&P and SoC products, Renesas provides the expertise, quality, and comprehensive solutions for a broad range of Automotive, Industrial, Home Electronics (HE), Office Automation (OA) and Information Communication Technology (ICT) applications to help shape a limitless future.

Renesas was established in 2010 and is headquartered in Japan. With over 800 hardware and software alliance partners worldwide, it has the industry's largest local support network. Renesas Electronics' European structure is comprised of two business groups - automotive and industrial - as well as the global ADAS solution group and the engineering group.

Further information about Renesas Electronics Europe is available at at www.renesas.com.

Renesas Electronics Europe is also on social media at http://twitter.com/..., http://facebook.com/... and http://youtube.com/....
Diese Pressemitteilungen könnten Sie auch interessieren
Weitere Informationen zum Thema "Hardware":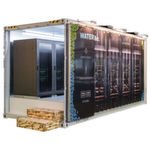 Cloud&Heat Technologies expandiert nach Asien
Cloud&Heat Tech­no­lo­gies hat ei­ne Han­del­s­part­ner­schaft mit Ina­ba­ta & Co. Ltd. aus Ja­pan ge­sch­los­sen. Da­mit star­tet das Dres­de­ner Un­ter­neh­men den Ver­trieb sei­ner Re­chen­zen­trums- und Cloud-Pro­duk­te im asia­ti­schen Raum. Ina­ba­ta ist zu­g­leich der ers­te asia­ti­sche Kun­de, der ei­nen Auf­trag er­teilt hat.
Weiterlesen