Glycotope Received Regulatory Approval for Glycooptimized and Fully Human Glycosylated Antibody CetuGEX(TM) and Enrolls First Patients in Clinical Trial
Berlin, Germany

, (PresseBox) -
Glycotope GmbH, a leading glycobiology company, has received regulatory approval by German and Italian regulatory authorities for a Phase I study of Glycotope's next generation antibody CetuGEX(TM) (GT-MAB 5.2-GEX) for the treatment of various solid cancers.

"For Glycotope, the approval of CetuGEX(TM) , our second antibody in the clinic, represents another important milestone," says Steffen Goletz, CEO & CSO of Glycotope. "CetuGEX(TM) is our first in a series of next generation biotherapeutic products. We expect that the strong advantages in various product aspects we have seen in preclinical studies will manifest in a clear clinical superiority compared to the currently marketed product. In addition, the second cell line of Glycotope's glycooptimization platform GlycoExpress(TM) based on human cell lines has now been approved, meeting our ambitions for quality and speed." CetuGEX(TM) was the second antibody in clinical stage produced in Glycotope's own GMP facility in Heidelberg.

About CetuGEX(TM)

CetuGEX(TM) is an improved version of a currently marketed anti-EGFR antibody which has been approved for the treatment of colorectal and head & neck cancers. The antibody's fully human glycosylation is optimized to yield a largely improved antitumor ADCC activity, bioavailability and contains no nonhuman immunogenic carbohydrate structures and facilitates treatment of a highly increased number of patients. This was achieved with Glycotope's proprietary technology platform GlycoExpress(TM) , a screening and high yield production system of glycoengineered human cell lines.
GLYCOTOPE GmbH
GLYCOTOPE, founded in 2001, focuses on the optimization and humanization of therapeutically relevant carbohydrate structures known as glycosylation and on the development of innovative antibodies targeting glycostructures on cell surfaces. GlycoExpress(TM) , one of the company's proprietary technologies, allows making existing and new biopharmaceutical drugs more effective and tolerable in the human body, which is of considerable medical as well as economic importance. Glycotope evolved into a leading integrated glycobiology company, covering all steps from lead discovery, preclinical development, GMP production and clinical development. Glycotope's most advanced pipeline includes antibodies against novel targets for cancer therapy (e.g. GT-MAB 2.5-GEX(TM) ) and significantly improved versions of antibodies as well as other marketed therapeutic proteins.

www.glycotope.com
Diese Pressemitteilungen könnten Sie auch interessieren
Weitere Informationen zum Thema "Biotechnik":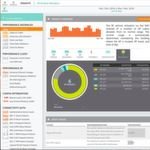 Analytics- und Assurance-Tool auf KI-Basis
Das HPE-Un­ter­neh­men Aru­ba er­wei­tert mit Ne­tIn­sight sei­ne Mo­bi­le-First-Ar­chi­tek­tur um Ana­lytics- und As­suran­ce-Funk­tio­nen. Die Lö­sung sei mit Hil­fe von künst­li­cher In­tel­li­genz (KI) und ma­schi­nel­lem Ler­nen in der La­ge, die Netz­werk­per­for­man­ce zu opti­mie­ren.
Weiterlesen