Fujitsu Launches PRIMERGY TX200 S6 Bringing New Levels of Performance and Efficiency
Regensdorf

, (PresseBox) -
Fujitsu today announces the global availability of the next generation of the PRIMERGY TX200 S6 dualsocket x86 tower server, combining efficient hardware and service offerings for use in virtualization or database scenarios in smaller environments. Now including the new Intel Xeon processor 5600 series, it joins the range of dualsocket servers introduced in March - comprising the PRIMERGY tower server TX300 S6, PRIMERGY rack servers RX200 S6 and RX300 S6, and PRIMERGY blade servers BX920 S2 as well as the new BX922.[1]

Designed to energize business by providing new levels of performance and efficiency, PRIMERGY TX200 S6 servers are ideal for smaller or decentralized infrastructure needs requiring more processing power, such as a file, print or email branch server. They are also suited, in combination with Windows Small Business Server 2008, for usage in collaborative environments like branch offices or smaller offices. As well as the latestgeneration Intel Xeon processors, the TX200 S6 supports up to 16 2.5" SAS 2.0 hard disks and adds support for Solid State Disks (SSDs) providing faster IO and availability. Energy costs are kept to a minimum with advanced power management features like Power Consumption Monitoring, Limiting or Controlling, plus optional redundant power supply units with a 92% efficiency rating and optional low voltage memory modules.

Says Jens-Peter Seick, Senior Vice President Datacenter Systems Product Division at Fujitsu Technology Solutions: «Striking exactly the right balance can often make all the difference between profit and loss. The PRIMERGY TX200 S6 is the right allround server for customers with decentralized infrastructures that need the power of up to two processors. With these needs in mind we have combined optimized hardware and service offerings with the great processing power of the Intel Xeon processor 5600 series. That way, customers get all the power they need, without unnecessarily wasting resources such as electricity.»
Fujitsu Technology Solutions GmbH
Fujitsu is a leading provider of ICTbased business solutions for the global marketplace. With approximately 170,000 employees supporting customers in 70 countries, Fujitsu combines a worldwide corps of systems and services experts with highly reliable computing and communications products and advanced microelectronics to deliver added value to customers. Headquartered in Tokyo, Fujitsu Limited (TSE:6702) reported consolidated revenues of 4.6 trillion yen (US$50 billion) for the fiscal year ended March 31, 2010. For more information, please see: www.fujitsu.com.

About Fujitsu Technology Solutions

Fujitsu Technology Solutions is the leading European IT infrastructure provider with a presence in all key markets in Europe, the Middle East and Africa, plus India, serving large-, medium- and smallsized companies as well as consumers. With its Dynamic Infrastructures approach, the company offers a full portfolio of IT products, solutions and services, ranging from clients to datacenter solutions, Managed Infrastructure and Infrastructureasa-Service. Fujitsu Technology Solutions employs more than 13,000 people and is part of the global Fujitsu Group. For more information, please see: ts.fujitsu.com/aboutus.
Diese Pressemitteilungen könnten Sie auch interessieren
Weitere Informationen zum Thema "Hardware":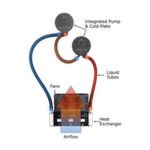 Asetek und Intel kühlen gemeinsam
Ase­tek ar­bei­tet ab so­fort mit In­tel zu­sam­men, um Re­chen­zen­t­ren und Ser­ver mit Was­ser zu küh­len. Dem­nächst soll die Vor­stel­lung ei­nes ers­ten ge­mein­sa­men Pro­duk­tes fol­gen.
Weiterlesen