EFI Enters Agreement with Nazdar for Solvent Ink Manufacturing
VUTEk Solvent Inks are Renowned for Colour Quality, Durability and Performance
Zaventem, Belgium

, (PresseBox) -
EFI(TM) (Nasdaq: EFII), the world leader in customer-focused digital printing innovation, today announced entry into a manufacturing agreement with Nazdar®, wherein Nazdar will produce EFI's VUTEk and Inkware solvent inks, which are renowned for their phenomenal colour quality, fantastic durability and superior printer performance. Nazdar is a long-time partner of EFI who distributes VUTEk® printers and inks to the North American screenprinting market.

"Nazdar has been a trusted partner of EFI for many years, and we are thrilled to be expanding our relationship with a company that has such a deep knowledge of solvent-based digital ink manufacturing," said Scott Schinlever, vice president and general manager of EFI's ink business. "EFI's ink customers will continue to receive superior products and service that they have come to expect over the last two decades, including the most consistent and durable inks that have been developed and optimised for their printing systems. EFI selected Nazdar to be their manufacturing partner due to their commitment to quality, consistency and reliability, which are cornerstones of EFI inks."

Though EFI's VUTEk and Inkware solvent ink will be manufactured by Nazdar, the inks will use current EFI's VUTEk and Inkware formulations, with the same warranty coverage offered, and will be manufactured to the same stringent quality-control requirements. VUTEk superwide inkjet printers provide the best image quality, most vibrant colours and finest consistency when printing with VUTEk and Inkware inks. VUTEk customers can run a multitude of jobs for indoor and outdoor applications with confidence, knowing that EFI has been an industry-leader for twenty years.

Nazdar has been producing inks and coatings since 1922, and for the digital printing industry since 1998, and received word in the year 2000 that their Quality Management System exceeds the International Standard ISO 9001. This is an industry-wide signal that Nazdar has achieved a standard of quality that extends from operations and manufacturing to customer service and product delivery.

"Nazdar is pleased to have this opportunity to expand our relationship with EFI", said Richard Bowles, vice president and general manager of Nazdar's inks and coatings division. "Nazdar can focus on what we do best - manufacturing excellent digital inks to the exacting standards developed by VUTEk and Inkware."

The announcement of the extended partnership between EFI and Nazdar Inks and Coatings comes along with word that EFI expects to cease ink manufacturing at its Meredith, NH facility as part of its ongoing consolidation of its ink business, and will be manufacturing its UV-based and speciality digital inks at EFI's facility in Ypsilanti, Michigan.

For more information about EFI inks or superwide printers, visit www.efi.com/vutek.
EFI Germany
EFI (www.efi.com) is the world leader in customer-focused digital printing innovation. EFI's award-winning solutions, integrated from creation to print, deliver increased performance, cost savings and productivity. The company's robust product portfolio includes Fiery® digital colour print servers; VUTEk® superwide digital inkjet printers, UV and solvent inks; Rastek UV wide-format inkjet printers; Jetrion® industrial inkjet printing systems; print production workflow and management information software; and corporate printing solutions. EFI maintains 23 offices worldwide.

EFI, Fiery, VUTEk, Jetrion, PrintFlow, Auto-Count, ColorWise and Colorproof are registered trademarks of Electronics For Imaging, Inc. in the U.S. and other countries. All other trademarks mentioned in this document are the property of their respective owners.

Nothing herein should be construed as a warranty in addition to the express warranty statements provided with EFI products and services. This news release contains forward-looking statements, that are statements other than statements of historical fact including words such as "anticipate", "believe", "estimate", "expect", "consider", "plan" and similar, any statements related to strategies or objectives of management for future operations, products, development, performance, any statements of assumptions or underlying any of the foregoing and any statements in the future tense. Forward-looking statements are subject to certain risks and uncertainties that could cause our actual or future results to differ materially. For further information regarding risks and uncertainties associated with EFI's businesses, please refer to the risk factors section in the Company's SEC filings, including, but not limited to, its annual report on Form 10-K and its quarterly reports on Form 10-Q. EFI undertakes no obligation to update information contained herein, including forward-looking statements.
Diese Pressemitteilungen könnten Sie auch interessieren
Weitere Informationen zum Thema "Hardware":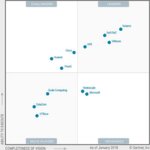 Magic Quadrant für Hyperconverged Infrastructure
Das Markt­for­schungs- und Be­ra­tungs­un­ter­neh­men Gart­ner hat die Hy­per­kon­ver­genz-An­ge­bo­te von zwölf Her­s­tel­lern un­ter die Lu­pe ge­nom­men. Die Ana­lys­ten kom­men in ei­ni­gen Fäl­len zu durch­aus über­ra­schen­den Fest­stel­lun­gen.
Weiterlesen