Singapore named most developed online retail market in Southeast Asia, but there is still room for growth, reveals yStats.com

Hamburg

, (PresseBox) -
Based in Hamburg, Germany, yStats.com, a global B2C E-Commerce secondary market research company released a new publication called "Singapore B2C E-Commerce Market 2017" that includes research concluding that the E-Commerce market in Singapore is the most developed in the region of Southeast Asia, but is still forecasted to see double-digit growth over the next few years.

Though Singapore has the smallest population in Southeast Asia, their online retail market in 2016 ranked third in the region because of factors like advanced infrastructure, high rates of Internet penetration, and the open customer attitude towards E-Commerce. According to the yStats.com report, over 3 in 4 people in Singapore have an Internet connection and the connection speed placed first in comparison with the five main countries in Southeast Asia. Influenced by cheaper prices in contrast with traditional retail markets and greater access to unavailable items in Singapore from cross-border shopping, a large double-digit share of adult Internet users completed online purchases in 2016.

The yStats.com report reveals that Singapore's E-Commerce market contains a large share of cross-border imports. Over half of online consumers completed purchases through foreign retailers using platforms like Alibaba and Amazon. No matter whether the purchase came from abroad or not, the overwhelmingly demanded category is fashion items; however the categories with the fastest growth rate in 2017 are expected to be household goods and groceries.

As can be seen from the largest online share of total retail sales, Singapore maintains the most developed E-Commerce market amongst the leading five countries in Southeast Asia, but there is still room to grow, say forecasts cited in the yStats.com report. Singapore's online retail market is still projected to see double-digit growth rates up to 2025.

For further information, see: https://www.ystats.com/wp-content/uploads/2017/04/20170101_Product-Brochure-Order-Form_Singapore-B2C-E-Commerce-Market-2017.pdf
Website Promotion
yStats.com GmbH & Co. KG
Founded in 2005 and headquartered in Hamburg, Germany, yStats.com is one of the world's leading secondary market research companies. We are committed to providing the most up-to-date and objective data on Global B2C E-Commerce and Online Payment markets to sector-leading companies worldwide.

Our multilingual staff researches, gathers, filters and translates information from thousands of reputable sources to synthesize accurate and timely reports in our areas of expertise, covering more than 100 countries and all global regions. Our market reports focus predominantly on online retail and payments, but also cover a broad range of related topics including M-Commerce, Cross-Border E-Commerce, E-Commerce Delivery, Online Gaming and many others. In addition to our wide selection of market reports, we also provide custom market research services.

We are proud to cooperate with companies like Bloomberg and Thomson Reuters. Given our numerous citations in leading media sources and journals worldwide, including Forbes and the Wall Street Journal, we are considered one of the most highly-reputed international secondary market research companies with an expertise in the areas of B2C E-Commerce and Online Payment.
Diese Pressemitteilungen könnten Sie auch interessieren
Weitere Informationen zum Thema "E-Commerce":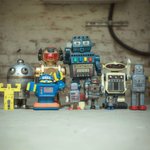 Roboter erobern die Fertigung
Wie misst man den Au­to­ma­ti­sie­rungs­grad der Fer­ti­gungs­in­du­s­trie in ver­schie­de­nen Län­dern? Der Welt­ro­bo­ter­ver­band hat neue Zah­len zur Ro­bo­ter­dich­te im Län­der­ver­g­leich ver­öf­f­ent­licht. Die Au­to­ma­ti­on der Volks­wirt­schaf­ten läuft welt­weit auf Hoch­tou­ren: Mit ei­ner durch­schnitt­li­chen Ro­bo­ter­dich­te von 74 Ein­hei­ten pro 10.000 Mit­ar­bei­ter hat der glo­ba­le Durch­schnitt in der Fer­ti­gungs­in­du­s­trie ei­nen neu­en Re­kord er­reicht.
Weiterlesen