SafeNet Prepares Software Publishers to Navigate the Cloud with Saugatuck Technology and Other Industry-leading Analyst Research Firms
Industry leading provider of software licensing and entitlement management solutions announces educational webinar series for software publishers to achieve better software monetization in the cloud
BALTIMORE

, (PresseBox) -
SafeNet, a global leader in information security, announces Navigating the Cloud, a series of five live webinars hosted by SafeNet with guest presenters from leading analyst firms Saugatuck Technology, IDC, and Forrester Research, Inc. Designed to educate software publishers on best practices for software monetization in the cloud, session curriculum will cover the hottest topics around delivering software as a service including service catalog definition and management, usage authorization and metering, business process optimization, and more.

For more information about any event in the Navigating the Cloud webinar series, to request localized transcripts of events as they air, or to request a meeting with a SafeNet Software Monetization Specialist please visit us online at www.safenet-inc.com/...

"With 48% of enterprise organizations already investing in SaaS it is no wonder that more than 52% of our customers have a move to the cloud in sight," said Chris Holland, SVP SRM Division, SafeNet. "Sentinel Cloud Services(TM) , the latest addition to our family of Sentinel® Software Monetization Solutions demonstrates our ongoing commitment to the development and delivery of bestinclass technology and the recently announced Navigating the Cloud webinar series demonstrates our commitment to customer success enablement. We are equally proud to consistently deliver both."

Currently in private beta, SafeNet's Sentinel Cloud Services is the industry's first and only solution to bring all of the benefits of software licensing and entitlement management to the cloud.

Sentinel Cloud Services make it easier for cloud service providers to authorize user access at the feature level, measure service usage for billing and business intelligence purposes, and instantly adapt their service catalog to embrace new and evolving market opportunities. For more information about Sentinel Cloud Services or to apply for the public beta program launching later this year visit www.sentinelcloud.com.
SafeNet, Inc.
Founded in 1983, SafeNet is a global leader in information security. SafeNet protects its customers' most valuable assets, including identities, transactions, communications, data and software licensing, throughout the data lifecycle. More than 25,000 customers across both commercial enterprises and government agencies and in over 100 countries trust their information security needs to SafeNet.




Diese Pressemitteilungen könnten Sie auch interessieren
Weitere Informationen zum Thema "Sicherheit":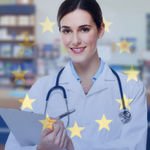 DSGVO verändert die Gesundheitsbranche
Die Da­ten­schutz-Grund­ver­ord­nung (DSG­VO / GD­PR) zählt Ge­sund­heits­da­ten und ge­ne­ti­sche Da­ten zu den be­son­de­ren Ka­te­go­ri­en per­so­nen­be­zo­ge­ner Da­ten, für die spe­zi­el­le Vor­schrif­ten be­ste­hen. Wer im wei­ten Feld des Ge­sund­heits­we­sens tä­tig ist, muss sich ins­be­son­de­re die The­men Ein­wil­li­gung, Da­ten­si­cher­heit, au­to­ma­ti­sier­te Ent­schei­dun­gen und Da­ten­schutz-Fol­gen­ab­schät­zung ganz ge­nau an­se­hen.
Weiterlesen