prime Visit: Quick, efficient visitor administration - even in an emergency

Stetten

, (PresseBox) -
prime Visit, the visitor administration solution from primion Technology AG, facilitates the registration and administration of visitors within a company's building or premises. In this case, a visitor is defined as being someone who is not registered as an a employee of the company or someone who is not there on a permanent basis.

The prime Visit software can be effectively deployed in cases where time-limited access to a defined area has to be monitored and when the activities during the time that a visitor is on site have to be traceable. In this way, opportunities for possible misconduct or damage can be limited and internal or statutory regulations can be adhered.

prime Visit offers numerous benefits in comparison to manually maintained visitor records. Administration is very straightforward and the status of on-site visitors can be queried at all times. Historic data can be traced back and evaluated.

prime Visit can also be linked to the primion Access control system. Visitor registration can be completed within just a few minutes by using a card scanner or a QR code sent in advance by e-mail to the visitor, for example The system is intuitive and user-friendly

In addition prime Visit also enables:

The generation of lists of on-site visitors
The tracking of applied access authorisations within the defined area
The search for specific persons and where they are currently located
The link to different Access control system within a company
Rapid evacuation in an emergency through knowledge about how many people are on site
Advance registration of visitors and visitor groups via the Internet or Outlook
Generation of an automatic invitation process with reply option
"Express check-in" using barcode
Connection to hardware components such as QR code scanners, ID card scanners, Check-In Kiosks, etc.
Further information http://www.primion.de/en/solutions/visitor-management/
Website Promotion
primion Technology AG
The primion group is an internationally operating group of companies, with subsidiaries throughout Europe and a widespread international network of System Integration Partners. primion develops, produces and installs Access control and Time recording software and hardware together with systems for comprehensive security management. primion, its subsidiaries Opertis in Germany, primion S.A.S. In France, GET in Belgium and Digitek in Spain as well as System partner companies operating around the world, share the responsibility for sales and of course for the full range of after-sales services. primion offers tailored security technology and hazard management solutions from standardised components for security-critical environments and infrastructures such as airports, research institutes, laboratories, banks, public buildings, and many more. We are continually expanding our position in the market with our reliable solutions, our innovative products and our top consultancy services across all industries and for all sizes of company and organisation. First class references from around the world as well as our numerous awards and certificates and sought-after international Design Prizes add weight to this claim. Around the world, more than 5,000 customers have placed their confidence in the primion solutions.
Diese Pressemitteilungen könnten Sie auch interessieren
Weitere Informationen zum Thema "Sicherheit":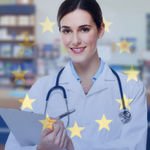 DSGVO verändert die Gesundheitsbranche
Die Da­ten­schutz-Grund­ver­ord­nung (DSG­VO / GD­PR) zählt Ge­sund­heits­da­ten und ge­ne­ti­sche Da­ten zu den be­son­de­ren Ka­te­go­ri­en per­so­nen­be­zo­ge­ner Da­ten, für die spe­zi­el­le Vor­schrif­ten be­ste­hen. Wer im wei­ten Feld des Ge­sund­heits­we­sens tä­tig ist, muss sich ins­be­son­de­re die The­men Ein­wil­li­gung, Da­ten­si­cher­heit, au­to­ma­ti­sier­te Ent­schei­dun­gen und Da­ten­schutz-Fol­gen­ab­schät­zung ganz ge­nau an­se­hen.
Weiterlesen