Sterilizable Motors
Powered surgical hand tools rely on high performance BLDC motors for optimal surgical outcomes.

La Chaux-de-Fonds

, (PresseBox) -
Designing a surgical hand tool?

Not sure what motor you need or where to start?

Start your next hand tool design using a sterilizable motor brushless dc motor solution. Portescap has over 20+ years of experience in surgical power hand tool applications designing and developing sterilizable motor solutions resulting in low thermal rise in the surgeon's hand.

Get the performance you need with Portescap BLDC Motor Solutions.

Our standard designs can be used in production or modified and customization for specific performance needs.

Our sensored solutions are designed to withstand up to 3,000 autoclave cycles.
We offer high torque and speed for increased hand tool power and shorter surgery cases.

We ensure high efficiency for optimized thermal performance at high speeds and high loads.

Let Portescap help kick-start your design with the Rapid Prototyping!

The prototypes are available to ship in 2 weeks or less, so you can test your system quickly and shorten your time to market, and then avoid trial & error experiments, circumvent project cost & time overruns.

Read more about that product: http://www.portescap.com/...
Website Promotion
Portescap S.A.
Portescap is part of the Fortive Corporation. Fortive (NYSE: FTV) is a diversified industrial growth company providing essential industrial technology and professional instrumentation solutions.

From medical devices to various industrial applications that save, improve, and enhance lives, Portescap offers miniature motor technologies to solve the motion needs of a spectrum of end markets. We serve our customers through breadth of innovative product technologies encompassing brushless DC, brush DC, can stack motors, disc magnet motors and stepper linear actuators to optimize application performance.

Our products deliver motion in a compact package with high efficiency and low power consumption. Building upon a tradition of manufacturing excellence, and driven by passion for innovation, we leverage over 70 years of experience in motion solutions to put precise power in the smallest places.

We partner with our customers across the globe in every phase of their product design - from selecting an optimal motion solution to customizing products to meet their application needs. Our global manufacturing footprint and application centers worldwide allow us to respond quickly to customer needs and to provide local support.

Diese Pressemitteilungen könnten Sie auch interessieren
Weitere Informationen zum Thema "Medizintechnik":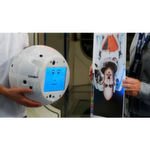 Mobiler Flugbegleiter CIMON fliegt zur ISS
Der in­ter­ak­ti­ve Flu­gas­sis­tent CI­MON (Cr­ew In­ter­ac­ti­ve Mo­bi­le Com­pa­ni­on) soll ab Früh­som­mer 2018 die Cr­ew auf der Raum­sta­ti­on ISS un­ter­stüt­zen.
Weiterlesen