OE-A Presents New Roadmap and Organic Electronic Giveaways
Organic Electronics Live
Frankfurt am Main

, (PresseBox) -
What are the future applications for organic electronics, which processes and materials are needed, what are the major hurdles? The second version of the OE-A Roadmap for Organic Electronics provides answers to these questions.

In addition, the Organic Electronics Association (OE-A) will present live demonstrations of flexible organic electronic systems and provide giveaways with a set of printed electronics samples and interactive electronic paper cards. The giveaways and the roadmap will be presented for the first time at the Organic Electronics Conference & Exhibition (OEC-07) from 24th to 26th September 2007 in Frankfurt, Germany.

Organic electronics — thin, lightweight, flexible and produced at low cost - are on the way to being used in first products now. The OE-A - the key industry association for organic and printed electronics - supports its members and the community by providing a platform for the exchange of information, initiating technical cooperations and informing the public.

Also for the first time, a set of organic electronics devices will be distributed as an inlay in the new OE-A brochure, including printed batteries, displays, radio-frequency-tags, sensors, switches, transistors. Additionally, flexible demonstrators combining multiple organic electronic devices will be shown. Acreo, Agfa, BASF, COPACO, Fraunhofer IAP, H.C. Starck, HDM-Stuttgart, MAN Roland, Mitsubishi Polyester, Plastic Electronic, PolyIC, Thin Film Electronics and VARTA Microbattery are all working together on these projects. Interactive electronic paper cards by Printed Systems are also included in the brochure.They enable easy access to a number of websites, cross-linking the paper and the digital world.

OE-A members updated and expanded the roadmap for organic electronics. This second version gives an overview of future product generations, material and technology requirements, and identifies "red brick walls" – principle challenges on the way towards mass production.

"The roadmap and technical projects are key activities of the OE-A. Additionally, we have largely enhanced our global activities during the last twelve months. With meetings in Europe, North America and Asia, we are on the way to a truly global network for organic electronics," says Wolfgang Mildner, chairman of the OE-A.

The recent results of the OE-A will be presented in a keynote presentation and a press conference on September 25 at OEC-07.

About the Organic Electronics Conference & Exhibition (OEC-07):

The Organic Electronics Conference & Exhibition (OEC-07) will be held from 24th to 26th September 2007, in Frankfurt/Main, Germany. The OEC is the leading international marketplace for organic electronics, industry-driven, and a cooperation of the OE-A and cintelliq.

The latest results and trends from the field of organic and printed electronics will be introduced in over 100 papers by representatives from industry and research. At OEC-07 the first printed low cost organic tickets developed by Bartsch and PolyIC within the Project PRISMA ("Printed Smart Labels", funded by the German ministry of Education and Research) will be field tested. At the related exhibition, products, prototypes, equipments and services associated with organic electronics will be presented by 35 companies and institutes from around the world.

For more information see: www.oec-europe.com, www.cintelliq.com, www.prisma-projekt.de. .
OE-A (Organic and Printed Electronics Association)
The Organic Electronics Association (OE-A) is a working group within the German Engineering Federation (VDMA). It was founded in December 2004. OE-A is the key international industry association for organic and printed electronics and represents the whole value chain of this emerging industry. Our members are leading international companies and institutions, ranging from component and material suppliers, equipment and tool suppliers, producers/system integrators and end-users to R&D institutes. More than 100 companies from Europe, the US and Asia are working together to promote the establishment of a competitive production infrastructure for organic and printed electronics. The vision of the OE-A is to build a bridge between science, technology and application. More than 3,000 member companies from the engineering industry make VDMA the largest industry association in Europe.

OE-A hosts the premier international conference and exhibition LOPE-C- Large-area, Organic and Printed Electronics Convention - for scientists, engineers, manufacturers and investors. LOPE-C 2009 will take place on 23 - 25 June, 2009 in Frankfurt, Germany.

For more information, please see: www.oe-a.org and www.lope-c.com
Diese Pressemitteilungen könnten Sie auch interessieren
Weitere Informationen zum Thema "Electrical Engineering":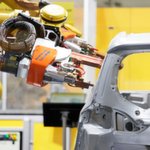 1,7 Millionen Industrie-Roboter erneuern Fabriken weltweit bis 2020
Bis 2020 wer­den mehr als 1,7 Mil­lio­nen neue In­du­s­trie-Ro­bo­ter in den Fa­bri­ken der Welt in­stal­liert. Die Ro­bo­tik-Bran­che in Asi­en ver­zeich­net da­bei ak­tu­ell das stärks­te Wachs­tum – an­ge­führt von Chi­na als Welt­markt­füh­rer. Im Jahr 2017 sind die Ro­bo­ter­in­stal­la­tio­nen in der Re­gi­on Asi­en-Aus­tra­li­en vor­aus­sicht­lich um 21 Pro­zent ge­s­tie­gen, in Nord- und Süda­me­ri­ka um 16 Pro­zent und in Eu­ro­pa um acht Pro­zent. Das sind Er­geb­nis­se aus dem World-Ro­botics-Re­port 2017, der von der In­ter­na­tio­nal Fe­de­ra­ti­on of Ro­botics (IFR) ver­öf­f­ent­licht wur­de.
Weiterlesen