mycon Supplies New Snow Blasting Equipment to WAFA / Augsburg
mycon has successfully integrated IceMaster in WAFA's production line in Augsburg (Germany)

Bielefeld / Augsburg

, (PresseBox) -
A new order from WAFA comprised an equipment for the pre-treatment of plastic parts before painting. WAFA decided in favour of an automated IceMaster snow blasting equipment from MYCON which has been built in as a flow through system into the existing production line. During the implementation of this order mycon was responsible for planning, construction, production, and commissioning of the equipment. In particular, the sound insulation guidelines had to be taken into account as they had to be complied with despite the limited available space.

Alexander Zeiger, head of WAFA's part production department :
"The cooperation with mycon has absolutely not caused any problems to us. Consulting, planning, execution, and commissioning of the plant were carried out exactly according to schedule and within the agreed budget. The equipment meets all our commitments and fulfils all expectations regarding the operating procedure and the cleaning results."

IceMaster - Economic Advantages
The mycon-IceMaster equipment is efficient, cost-effective and unlimitedly automatable. The equipment installed at WAFA provides convincing results as from 2 bar compressed air for part pre-treatment before painting. Adjoining this is low CO2-consumption from 14 to 22 kg CO2 per hour depending on the requirements. This results in operating costs of less than five euros per operating hour incl. compressed air consumption based on adequate Co2 quantities. Furthermore mycon GmbH's IceMaster blasting equipment need no maintenance.

IceMaster – Ecological Advantages and Possibilities of Use
Not only the described economic advantages but also ecological advantages justify the use of an ICEMASTER snow blasting equipment from mycon. Thanks to the use of compressed air and dry ice particles environmentally harmful blasting material residues such as waste water or steel granulates can be avoided. CO2 required for the generation of these particles is recovered through the processing of industrial gases. The dry ice particles are generated in the IceMaster just in the moment when they are needed and consequently you do not have to cope with storage problems involved with dry ice pellets as these can be preserved for only a few days. The different designs of the IceMaster are suitable for many different fields of application regarding industrial cleaning, e.g. for the removal of residues such as environmental pollution, oil, fat, and dusts from any type of surfaces.

Further information regarding the IceMaster from mycon under: http://www.mycon.info/...
Website Promotion
mycon GmbH
As a sister company to the service business Kipp Umwelttechnik GmbH, mycon GmbH is involved with the development, production and sale of new products and automation technologies.

mycon GmbH currently supplies to customers in approx. 40 countries.
Many years of experience from the field of industry service led to several systems developments and patents, some of which with international recognition. mycon GmbH takes care of customer groups from a variety of industry and service fields.

www.mycon.info

About Kipp Umwelttechnik GmbH, www.kipp-umwelttechnik.de

In the field of industrial cleaning, Kipp Umwelttechnik GmbH is the specialist for thorough and gentle cleaning in industry and for building cleaning.

Kipp Umwelttechnik GmbH was founded in 1991 as a sister company to the construction company Jens W. Kipp Tiefbau GmbH, which has existed since 1971. Both companies are businesses managed by entrepreneurs.

mycon GmbH has added to the group made up of Kipp Umwelttechnik GmbH and Jens W. Kipp Tiefbau GmbH since 2002.


Diese Pressemitteilungen könnten Sie auch interessieren
Weitere Informationen zum Thema "Mechanical engineering":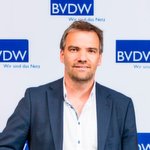 Umfassende Transparenz bei IoT-Geräten gefordert
Bei ei­ner Um­fra­ge des Bun­des­ver­bands Di­gi­ta­le Wirt­schaft (BVDW) e. V. spra­chen sich 96 Pro­zent der 209 Be­frag­ten Ex­per­ten aus Mit­g­lieds­un­ter­neh­men für ei­ne um­fas­sen­de Tran­s­pa­renz bei In­ter­net-of-Things-Ge­rä­ten aus.
Weiterlesen