DLP(TM) Rear Projection Cube with LED Light Source for Video Wall Applications
Stackable DLP™ rear-projection cube with LED light source for enhanced life-time and better colour representation for professional video wall applications.

Reutlingen

, (PresseBox) -
With the new EC-LED cube series, eyevis presents a revolution in the fields of modular video walls. The displays are available in different sizes and resolutions. Besides native HD-resolution (1,920 x 1,080 px) and SXGA+ (1,400 x 1,050 px), this new technology will also be available in WUXGA resolution (1,920 x 1,200 px) in 16:10 image format. With this world's first rear-projection cube with LED light source, eyevis has set a milestone. The cube is designed for sophisticated 24/7 applications. The technology is based on the DLP(TM) (Digital Light Processing)-technology by Texas Instruments. This leading display technology allows the display of high-resolution images in best image quality. The cubes were developed according to the requirements in areas with difficult lighting conditions and other security relevant conditions. The MTBF of the LED's averages 55,000 hours according to the manufacturer. Thanks to the LED-technology, the use of consumables such as lamps and colour wheels can be avoided, therefore operating and maintenance costs could be more than halved. The DLP(TM) -technology guarantees that no burn-in or image retention effects occur when displaying static images. In numerous tests and applications the DLP(TM) -technology has shown its leading role regarding reliability and image quality. The MTBF of the DMD(TM) -chips exceeds 150,000 hrs. All other components of the cube are of highest quality "made in Germany" and designed for continuous operation. This reliability allows our customers to have calculable costs for operation and service.

The cubes are available in following versions:

- HD resolution (1,920 x 1,080), 16:9 image format in 60" and 67" EC-60-LHD, EC-67-LHD
- SXGA+ resolution (1,400 x 1,050), 4:3 image format in 50", 70" and 80" EC-50-LSXT+, EC-70-LSXT+, EC-80-LSXT+
- WUXGA resolution (1,920 x 1,200), 16:10 image format in 70" EC-70-LWUXT

The Advantages at a Glance:

- Outstanding Image Quality
- Best brightness and contrast values
- Brilliant colour representation, highest colour gamut
- Latest DLPTM technology
- Different resolutions: SXGA+, HD, WUXGA
- Eco-Friendly Concept
- Mercury-free light systems
- ISO 14001 certified
- Extremely long lifetime
- Low energy consumption and waste of resources
- Low-Maintenance System
- No consumables as with traditional lamp systems, no colour wheels and no UHP lamps
- Extreme long MTBF
- Designed for continuous operation
- Highly efficient maintenance-free heat-pipe cooling
- Application Areas
- Command and control rooms: In security, energy, defence, telecom, traffic and transportation ...
- TV Studios
- 24/7-applications
- Additional Functions
- eyeCube-Software
- Information on many system parameters
- Optional Multi-Cube Colour-Brightness- Adjustment
- Wide range of options and accessories
- Multi-Security features for highest availability
- Technical Specifications
- LED-lifetime: 55,000 h
- Projector capsulated against dust
- RGB LED light source
- Surface LEDs (12 mm² each)
eyevis Gesellschaft für Projektions- und Großbildtechnik mbH
eyevis, German manufacturer and installer of large screen solutions, is a leading provider of visualisation systems for professional applications in control rooms, network operation centres and security installations. eyevis has a world-wide network of subsidiaries and resellers. eyevis is one of very few manufacturers on the market providing complete systems. eyevis one-stop solutions include display systems, graphics controllers and wall management software solutions.
Diese Pressemitteilungen könnten Sie auch interessieren
Weitere Informationen zum Thema "Hardware":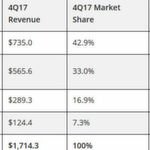 Umsatz konvergenter Systeme legt weltweit zu
Nach An­ga­ben der In­ter­na­tio­nal Da­ta Cor­po­ra­ti­on (IDC) ver­mel­de­te der "World­wi­de Quar­t­er­ly Con­ver­ged Sys­tems Tra­cker" für das vier­te Quar­tal 2017 ei­nen welt­wei­ten An­s­tieg der Um­sät­ze im Be­reich des kon­ver­gen­ten System­mark­tes um 9,1 Pro­zent. Hy­per­kon­ver­gen­te Sys­te­me out­per­for­men, an­de­re Teil­seg­men­te er­leb­ten Rück­gän­ge.
Weiterlesen