Rahi Systems and Daxten cooperate to enable data centre staff to easily lift heavy loads
Rahi Systems extends its portfolio in Turkey with ServerLIFT lifting solutions for heavy IT equipment
Berlin

, (PresseBox) -
Daxten, a leading specialist for the optimisation of data centres, announced today a partner agreement with Rahi Systems, a Global Data Center Solutions provider offering a full suite of products in physical infrastructure, storage, compute and networking. This agreement, effective immediately, will enable Rahi Systems, to resell the complete ServerLIFT product range in the Turkish market. These lifters simplify the installation of servers and heavy IT components into cabinets and make it possible for IT personnel to transport IT equipment within the data centre by themselves.

"We're very excited to be partnering with Daxten in the Turkish market, " said Timucin Yildirim, Director of Sales for Turkey at Rahi Systems. "With the addition of the ServerLIFT product line to our solutions portfolio, we are able to provide data centre professionals with a powerful tool to dramatically ease their day-to-day work and to protect their health."

In general, moving heavy and bulky IT components around the data centre and installing heavy IT-equipment in the upper levels of racks is not only physically taxing, but it also poses major risks to the health and safety of the data centre staff, as well as eliminating the potential danger of damaging sensitive and valuable IT equipment. These difficulties are compounded by the fact that today's data centres are growing dynamically and, therefore, IT hardware has to be changed, supplemented, relocated and reconfigured ever more frequently. The ServerLIFT product range provides a solution to this problem. Model-dependent these are capable of lifting and transporting equipment weighing up to 453 kg to a maximum height of 2.66 metres with pinpoint accuracy.

"The only way to free data centre professionals from performing such risky and back-breaking work and to correspond to the increasing demands is to use a safe and easy-to-use transport and lifting solution. The ServerLIFT solutions have been specifically designed for these tasks," said Chad Rislov, Daxten's Managing Director. "We are very happy that Rahi Systems is now offering this data centre essential and all of its related benefits and advantages to their customers in Turkey. The company has significant experience with best-practice techniques to give targeted support to their ServerLIFT customers in terms of project planning, logistics, implementation and post-sale services."

The ServerLIFT has optional add-on accessories such as platform risers (lifts equipment up to 3m), lift extensions for lifting loads vertically out of packaging and transport boxes as well as a tilting platform accessory to aid server installations with those tricky J-slot server rails. All products are available in Turkey from Rahi Systems with immediate effect. For further information please contact Rahi Systems on +90 850 205 15 90, via sales.tur@rahisystems.com or visit www.rahisystems.com.
Website Promotion
DAXTEN GmbH
Daxten is at the forefront of promoting energy efficiency within the data centre. The company offers cutting edge cooling optimisation (CoolControl), power distribution and monitoring solutions which improve the resource efficiency and reliability of the data centre. Daxten is headquartered in London and Berlin. For further information please visit www.daxten.com/uk/ or www.daxten.com/de/.

About Rahi Systems

Rahi Systems delivers a suite of solutions and services that optimize the cost, performance, scalability, manageability and efficiency of today's data center. Founded in 2012 by entrepreneurs with a deep understanding of the needs and the challenges of service providers, government agencies and enterprises, the company has grown through a solutions-oriented approach, outstanding support and a culture of customer success. Rahi has its corporate headquarters in Fremont, Calif., with offices in India, Hong Kong, Singapore, China, Japan, Ireland, Turkey, the Netherlands, the United Kingdom and Australia.

Local Contact

For further information please contact Timucin Yildirim, Director of Sales for Turkey at Rahi Systems: Direct Dial: +90 543 3870574, Email: timucin.yildirim@rahisystems.com

Media Contact

Alison Kedzior
Director of Marketing
+1 510 651 2205
alison@rahisystems.com



Diese Pressemitteilungen könnten Sie auch interessieren
Weitere Informationen zum Thema "Hardware":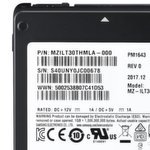 Samsungs quetscht über 30 Terabyte in eine 2,5-Zoll-SSD
Neu­es SSD-Top­mo­dell von Sam­sung fasst dop­pelt so vie­le Da­ten und ist dop­pelt so sch­nell wie der bis­he­ri­ge Re­kord­hal­ter von 2016. Der stammt eben­falls von Sam­sung.
Weiterlesen