IFOY AWARD invites applications for new jury members
Up to three additional members to be appointed to the IFOY Jury / Applications accepted by June 30, 2017
Ismaning

, (PresseBox) -
As was announced in Munich, the IFOY Award is inviting applications for up to three new jury members. Applications will be accepted from editors-in-chief of logistics and business magazines worldwide which cover the topics of intralogistics and materials handling equipment. Deadline is June 30, 2017. Entries are possible in English or German language by standard form at the IFOY website. More information on the formalities is available from the IFOY head office in Munich.

The jury for the IFOY Award is made up of 25 internationally reputed trade journalists and the leading logistics media from countries around the globe. They select the year's best materials handling equipment and integrated warehouse solutions. The voting process of the award is preceded by a wide-ranging nomination and testing cycle, during which the entered trucks are rigorously put through their paces.

The IFOY Awards 2018 will be presented at the CeMAT opening ceremony on April 23, 2018 in Hannover. Intralogistics companies can enter from September 1 until October 30, 2017.

Jury application at: http://www.ifoy.org/en/jury-application
Website Promotion
Anita Würmser
The International Intralogistics and Forklift Truck of the Year (IFOY AWARD) recognises the year's best materials handling equipment and intralogistics solutions. The aim of the organisation is to document the performance capability and innovative drive of the intralogistics, helping to boost competitiveness and raise the profile of the entire sector in the public arena. The winners of the IFOY Award are selected once a year by an independent jury of international trade journalists. The sponsor of the IFOY Award is the VDMA Materials Handling and Intralogistics Sector Association. The IFOY partners are Deutsche Messe with the leading international CeMAT trade fair for intralogistics in Hannover, and the Messe München trade fair company in Munich with the "transport logistic", bauma and IFAT fairs. The IFOY pallet partner is CHEP, the global market leader in pallet pooling, The IFOY technology partner is the battery charging specialist Fronius. The patron of the IFOY Award is the German Ministry for Economic Affairs and Energy. The headquarters of the IFOY Organisation are in Ismaning near Munich.

Members of the jury: Vladimir Antonov, Editor-in-Chief of Sklad i Technika, (Russia), Snejina Badjeva, Editor-in-Chief LOGISTIKA magazine (Bulgaria), Dave Blanchard, Editorial Director Material Handling & Logistics/IndustryWeek (USA), Theo Egberts, IFOY tester and owner Buro Andersom/Andersom Testing (Netherlands, without voting rights), Harald Ehren, Editor-in-Chief Deutsche Logistik-Zeitung (DVZ) (Germany), Thilo Jörgl, Editor-in-Chief LOGISTIK HEUTE (Germany), Anders Karlsson, Editor-in-Chief Transport & Logistik iDag (Sweden), Klaus Koch, Editor-in-Chief Logistik&Fördertechnik, Handel Heute (Switzerland), Erik Kruisselbrink, Editor-in-Chief Logistiek Totaal (Netherlands), Allan Leibowitz, Editor-in-Chief forkliftaction.com (Australia), Valeria Lima de Azevedo Nammur, Publisher LOGWEB Magazin (Brazil), Øyvind Ludt, Editor-in-Chief Moderne Transport (Norway), Bernd Maienschein, Editor-in-Chief MM Logistik (Germany), Marilena Matei, Editorial Manager Tranzit and Tranzit Logistica (Romania), Anton Mizunov, Editor-in-Chief Skladskoj Komplex (Logistics and Transport)(Russia), Maurizio Peruzzi, Editor-in-Chief Il Giornale della Logistica (Italy), Isabel Rodrigo, Editor-in-Chief Logística Profesional (Spain), Hans-Joachim Schlobach, Publisher-Editor and Editor-in-Chief BUSINESS+LOGISTIC (Austria), Sascha Schmel, Managing Director VDMA Materials Handling and Intralogistics Sector Association (without voting rights), Sabine Schulz-Rohde, Editor-in-Chief Beschaffung aktuell (Germany), Sebastian Śliwieński, Editor-in-Chief Warehouse Monitor (Poland), Jarlath Sweeney, Editor-in-Chief Fleet Transport (Ireland), Mats Udikas, Editor-in-Chief Transportnytt (Sweden). Executive Jury Chairperson is Anita Würmser, logistics journalist and Managing Director of wuermser.communications.
Diese Pressemitteilungen könnten Sie auch interessieren
Weitere Informationen zum Thema "Logistik":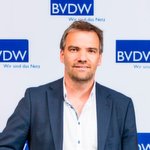 Umfassende Transparenz bei IoT-Geräten gefordert
Bei ei­ner Um­fra­ge des Bun­des­ver­bands Di­gi­ta­le Wirt­schaft (BVDW) e. V. spra­chen sich 96 Pro­zent der 209 Be­frag­ten Ex­per­ten aus Mit­g­lieds­un­ter­neh­men für ei­ne um­fas­sen­de Tran­s­pa­renz bei In­ter­net-of-Things-Ge­rä­ten aus.
Weiterlesen