Y.HDR-Inspect delights customers!
The new digital imaging procedure from YXLON for visual X-ray inspection, Y.HDR-Inspect, has been extremely well received by customers
Hamburg

, (PresseBox) -
YXLON International, a leading provider of industrial X-ray inspection systems and computed tomography solutions for the industrial, non-destructive testing of materials, takes pride in the successful market launch of its new standard solution for digital image generation in visual X-ray inspection: Y.HDR-Inspect.

Normally it proves to be difficult to market these kinds of innovations because the solution's performance capability and the real-life impression made by an image on paper are not easy to communicate. The situation first becomes clear-cut when an inspection item is moved "live" during the irradiation process or through video recordings. Despite this hurdle, once customers have seen these live images or videos they have been delighted. Without exception. At a demonstration of an inspection run using HDR-Inspect at the annual meeting of DGZfP, the German Association for Non-Destructive Testing in Münster, Germany, Hans W. Berg, managing director of BMB Gesellschaft für Materialprüfung mbH, a company in Heilbronn that focuses on non-destructive inspection technologies, spontaneously remarked: "This is what X-ray inspection is going to look like in the future."

In the case of the HDR ("Highly Dynamic Radioscopy") imaging procedure, live images are generated via a special filter through which the irradiated inspection item seems to be "made of glass". As a result, flaws in the inspection item along with its three-dimensional geometric characteristics can be detected and localized rapidly and reliably.
YXLON International GmbH
YXLON International GmbH, a leading supplier of industrial X-ray inspection systems and computed tomography solutions for the non-destructive testing of materials (NDT/NDI), is an innovative high-tech enterprise with a wealth of tradition. Since June 2007 YXLON has been a member company of COMET Holding AG (Switzerland). The COMET division Feinfocus in Garbsen (near Hanover, Germany) became affiliated with the YXLON Group in the course of this. As a result, alongside the automotive, aviation and aerospace industries, shipbuilding and vessel construction, YXLON can now also cover the strong demand for X-ray and CT systems in the microfocus sector, for instance as utilized in the electronics industry.

With its headquarters in Hamburg (Germany), its branch offices and a network of representatives established worldwide, YXLON provides solutions for any type of production process. This applies for servicing and maintenance work in the abovementioned industrial sectors as well, but also includes pipeline construction in addition to microfocus inspection in the electronics industry.

The selection of YXLON products offered encompasses both microfocus and conventional X-ray and CT technologies. The portfolio ranges from portable systems designed for application in the field to standardized modular solutions or complex, fully automatic systems, yet also includes systems specific to a certain customer all the way to Feinfocus microfocus X-ray and µCT systems.

Diese Pressemitteilungen könnten Sie auch interessieren
Weitere Informationen zum Thema "Produktionstechnik":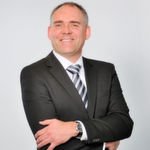 Diese Einsatzszenarien bietet die Blockchain
Die Kryp­to­wäh­rung Bit­coin macht mo­men­tan fast täg­lich Schlag­zei­len. Im Zu­ge des­sen fällt zwangs­läu­fig der Be­griff "Block­chai­n", der oft­mals fäl­sch­li­cher­wei­se als Sy­n­onym ver­wen­det wird. Doch Block­chain ist sehr viel mehr als nur Bit­coin – ei­ne zu­kunft­s­träch­ti­ge Tech­nik, die auch au­ßer­halb von Kryp­to­wäh­run­gen gro­ßes Po­ten­zial hat. Sie kann in den ver­schie­dens­ten Bran­chen im­men­se Vor­tei­le brin­gen – und das liegt an den Ei­gen­schaf­ten der Block­chain-Tech­nik an sich.
Weiterlesen