WABCO Launches Industry-Leading Aerodynamic Solutions for Trailers in North America
Showcases OptiFlow AutoTail and Tail at TMC Annual Meeting and Transportation Technology Exhibition
Rochester Hills, Mich. and Nashville, Tenn.

, (PresseBox) -
WABCO Holdings Inc. (NYSE: WBC), a leading global supplier of technologies that improve the safety, efficiency and connectivity of commercial vehicles, today announced the North America premiere of OptiFlow™ AutoTail and Tail as part of its showcase of industry-leading aerodynamics technologies at TMC Annual Meeting and Transportation Technology Exhibition. The trade show will take place from Feb. 27 through March 2, 2017 in Nashville, Tenn.

The first aerodynamic tail in the U.S. to feature automatic deployment and retraction, WABCO's OptiFlow AutoTail is also the first product to earn EPA SmartWay verification from the prestigious National Research Council (NRC), the Canadian government's premier research and technology organization.

WABCO's OptiFlow AutoTail deploys and retracts tail panels based on driving speed as determined by sensors linked to WABCO's Trailer Anti-Lock Braking Systems (ABS). The device automatically deploys at vehicle speeds of 45 mph ensuring it is consistently used at speeds that maximize aerodynamic fuel savings. The tail panels automatically retract at a vehicle speed of 10 mph.

OptiFlow AutoTail delivers fuel savings of up to 4.3% at highway speeds based on SmartWay test protocol, and reduces CO₂ emissions by up to 4.8 tons per trailer per year. Automatic retraction also improves maneuverability and enhances safety by ensuring panels are folded in city centers, loading docks and other areas where trailers are in close proximity to pedestrians or objects.

WABCO also features its OptiFlow Tail for the first time in North America. Easy to deploy and retract manually, WABCO OptiFlow Tail provides identical fuel savings as OptiFlow AutoTail. It features a lightweight design that is straightforward to install and retrofit. OptiFlow Tail is easily upgraded to OptiFlow AutoTail.

Both OptiFlow Tail and AutoTail are made from automotive grade thermoplastic, an extremely lightweight, durable and long-lasting material that resists wear from weather, vibration and everyday hazards of the trucking industry. The injection-molded panels offer a unique, curved shape and smooth surface that reduces air resistance.

"We are proud to introduce an array of innovative aerodynamic solutions in North America that will improve efficiency of commercial vehicles for fleet operators and transport companies alike," said Jon Morrison, WABCO President, Americas. "WABCO's OptiFlow AutoTail and Tail represent our first product integration in North America after we acquired aerodynamic technology leader Laydon Composites Ltd. (LCL) in April 2016. Based on our combined world-class aerodynamics expertise, design and manufacturing capabilities we deliver aerodynamic solutions that will help our fleet customers meet U.S. greenhouse gas emission regulations to take effect in January 2018."

The U.S. Environmental Protection Agency (EPA) has issued new greenhouse gas phase 2 standards that are expected to slash CO2 emissions from a wide range of commercial trucks, buses and cargo vans by approximately 25% compared to current levels. The regulations prompt manufacturers to achieve reductions through a mix of technologies, including aerodynamics, weight improvements and tire solutions. Regulators expect the additional cost of complying with the standards to be offset by fuel savings.

"Having combined the strengths of two technology pioneers, WABCO is advancing aerodynamics to make an even more significant difference in the efficiency of commercial vehicles," said Brian P. Layfield, WABCO Global Aerodynamics Leader and former President of LCL. "Our OptiFlow products feature state-of-the-art design, materials and technologies that enable fleets to optimize fuel efficiency while improving vehicle safety and operating convenience."

WABCO at TMC

TMC Annual Meeting and Transportation Technology Exhibition
Feb. 27 - Mar. 2, 2017
Music City Center, Nashville, Tenn.
Booth: #220
WABCO Fahrzeugsysteme GmbH
WABCO (NYSE: WBC) is a leading global supplier of technologies and services that improve the safety, efficiency and connectivity of commercial vehicles. Founded nearly 150 years ago, WABCO continues to pioneer breakthrough innovations for advanced driver assistance, braking, stability control, suspension, transmission automation and aerodynamics. Partnering with the transportation industry as it maps a route toward autonomous driving, WABCO also uniquely connects trucks, trailers, cargo, drivers, business partners and fleet operators through advanced fleet management systems and mobile solutions. WABCO reported sales of $2.8 billion in 2016. Headquartered in Brussels, Belgium, WABCO has 13,000 employees in 40 countries. For more information, visit www.wabco-auto.com. For more information on WABCO OptiFlow™ aerodynamic solutions visit www.wabco-optiflow.com.


Diese Pressemitteilungen könnten Sie auch interessieren
Weitere Informationen zum Thema "Fahrzeugbau / Automotive":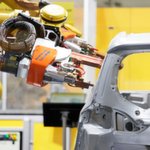 1,7 Millionen Industrie-Roboter erneuern Fabriken weltweit bis 2020
Bis 2020 wer­den mehr als 1,7 Mil­lio­nen neue In­du­s­trie-Ro­bo­ter in den Fa­bri­ken der Welt in­stal­liert. Die Ro­bo­tik-Bran­che in Asi­en ver­zeich­net da­bei ak­tu­ell das stärks­te Wachs­tum – an­ge­führt von Chi­na als Welt­markt­füh­rer. Im Jahr 2017 sind die Ro­bo­ter­in­stal­la­tio­nen in der Re­gi­on Asi­en-Aus­tra­li­en vor­aus­sicht­lich um 21 Pro­zent ge­s­tie­gen, in Nord- und Süda­me­ri­ka um 16 Pro­zent und in Eu­ro­pa um acht Pro­zent. Das sind Er­geb­nis­se aus dem World-Ro­botics-Re­port 2017, der von der In­ter­na­tio­nal Fe­de­ra­ti­on of Ro­botics (IFR) ver­öf­f­ent­licht wur­de.
Weiterlesen