Patent Case of Carl Zeiss Meditec AG and VSY Biotechnology B.V.
Amsterdam

, (PresseBox) -
Carl Zeiss Meditec AG has published and send a press release to the industry on March 27, 2017 mentioning that Carl Zeiss Meditec has won a patent infringement action before the District Court of Düsseldorf/Germany against VSY Biotechnology B.V. and its exclusive supplier Fritz Ruck Ophthalmologische Systeme GmbH based on European Patent 2 377 493 B1 of Carl Zeiss Meditec AG.

VSY Biotechnology considers it important to note that this is a ruling by the German Court of First Instance. VSY Biotechnology has the right to and will appeal this judgement with the Higher District Court and if necessary with the Federal Supreme Court in Germany. It is expected that a final ruling on the infringement may take several years and German Court's ruling is only effective in Germany but not in all over the world.

VSY Biotechnology B.V. reserves its right to seek material and moral indemnity for all direct and indirect damages of VSY Biotechnology on basis of unfair competition and defamation due to incomplete press release of Carl Zeiss dated March 27, 2017. Further VSY Biotechnology will ask for all damages they may suffer from the decision of the First German Court in case of District Court or Federal Court rule in favor of VSY Biotechnology.

Additionally, VSY Biotechnology applied for invalidation of Zeiss Patent EP 2 377 493 B1 before EPO with the claim of Zeiss Patent has lack of novelty, lack of inventive step, therefore unpatentable.

VSY filled opposition against Zeiss patent

VSY Biotechnology B. V. (VSY) has, amongst others, filed an opposition against Carl Zeiss Meditec A.G.'s (Zeiss) European patent EP 2 377 493 B1 "Method for manufacturing aphakic intraocular lens" (EP'493) with the European Patent Office (EPO) on May 6, 2016. Zeiss acquired EP'493 from the German IP advisers IP Strategists GmbH who acquired the patent from the Japanese company Menicon Co..VSY is of the opinion that EP'493 does not fulfil the requirements of patentability as it lacks novelty and inventive step, is insufficiently disclosed and includes extension of subject matter.

The patent regards Trifocal intraocular lenses. Trifocal lenses of Zeiss are AT LISA tri and the AT LISA tri toric.

The opposition is still pending.

All details of the opposition can be found on: https://register.epo.org/application?number=EP09837427&lng=de&tab=doclist
VSY Biotechnology BV
VSY Biotechnology is one of the leading companies in Industry of ophthalmology focusing on cataract surgery, producing premium intra ocular lenses and viscoelastics. For more information, please visit company website. www.vsybiotechnology.com
Diese Pressemitteilungen könnten Sie auch interessieren
Weitere Informationen zum Thema "Biotechnology":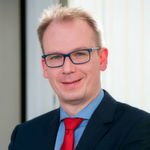 Was erwartet die datengetriebene Wirtschaft 2018?
Künst­li­che In­tel­li­genz (KI) war ver­gan­ge­nes Jahr ei­nes der Trend­the­men. Und auch in den Ex­per­ten­prog­no­sen für 2018 ist sie ein fes­ter Be­stand­teil. Die Fra­ge ist al­so we­ni­ger, ob, son­dern wie KI und da­mit ver­bun­de­ne Tech­no­lo­gi­en wie Ma­chi­ne Lear­ning in den nächs­ten Mo­na­ten die Un­ter­neh­mens­welt ve­r­än­dern wer­den.
Weiterlesen