LBBW/BW-Bank is the First German Bank that has Completely Replaced Printed TAN-Lists by Strong Authentication Using VASCO's DIGIPASS® Family
BW-Bank's Security Procedure has been Audited and Approved again by German Fraunhofer-Institute SIT
OAKBROOK TERRACE, Ill., and ZURICH, Switzerland

, (PresseBox) -
VASCO Data Security International, Inc. (Nasdaq: VDSI) (www.vasco.com), the leading software security company specializing in authentication products, has announced today that the top-five German financial institution Landesbank Baden-Württemberg (LBBW) has expanded its roll-out of VASCO's DIGIPASS client authentication products to its retail users.

The roll out of DIGIPASS allowed BW-bank to ban the use of TAN lists. TAN stands for Transaction Authentication Number. The bank will provide the customer with a list of unique Transaction Authentication Numbers which he uses to sign transactions in the online banking application.

In early 2006, LBBW/BW-Bank announced the roll-out of DIGIPASS 250. Since then, LBBW/BW-Bank has provided over 200,000 end users by these devices and also have introduced VASCO's "speaking" DIGIPASS 301 Comfort Voice for blind and visually impaired customers and DIGIPASS 300 Comfort, a handy desk size model with large keys and an oversized LCD-screen. LBBW/BW-Bank has successfully provided all active online account holders with VASCO's DIGIPASS.

LBBW and its retail arm BW-Bank have received widespread acclaim for its DIGIPASS-secured retail banking applications. The German Fraunhofer Institute for Secure Information Technology has re-tested the LBBW/BW-Bank security procedure with VASCO's DIGIPASS in March 2009 and approved it again.

"We opted for VASCO because of the quality of its products and the company's track record in the financial sector," said Stephan Wegmann, responsible Project Manager of BW-Bank. "Throughout our roll-out, the flexibility of the DIGIPASS product range offered us a large variety of additional functionalities and applications. This allowed BW-Bank to completely ban TAN-lists to the bank's archives." So 100% of BW-Bank's online banking transactions are executed safely by strong authentication using introduced VASCO's DIGIPASS models. The positive result: "We have had no cases of loss caused by online-attacks for one year." said Wegmann.

"We welcome BW-Bank's decision to do away with printed lists with transaction numbers and to opt - as a true trend-setter in the German market - for the more secure and user-friendly DIGIPASS strong authentication," said Jan Valcke, VASCO's President and COO. "We are convinced that through BW-Bank's and VASCO's joint efforts, the German e-banking landscape will become a far more secure place."

Forward Looking Statements

Statements made in this news release that relate to future plans, events or performances are forward-looking statements. Any statement containing words such as "believes," "anticipates," "plans," "expects," "intend," "mean," and similar words, is forward-looking, and these statements involve risks and uncertainties and are based on current expectations. Consequently, actual results could differ materially from the expectations expressed in these forward-looking statements.

Reference is made to the Company's public filings with the US Securities and Exchange Commission for further information regarding the Company and its operations.

This document may contain trademarks of VASCO Data Security International, Inc. and its subsidiaries, which include VASCO, the VASCO "V" design, DIGIPASS, VACMAN, aXs GUARD and IDENTIKEY.
VASCO Data Security
VASCO is a leading supplier of strong authentication and e-signature solutions and services specializing in Internet Security applications and transactions. VASCO has positioned itself as global software company for Internet Security serving a customer base of over 8,000 companies in more than 100 countries, including more than 1,200 international financial institutions. VASCO's prime markets are the financial sector, enterprise security, e-commerce and e-government.

Diese Pressemitteilungen könnten Sie auch interessieren
Weitere Informationen zum Thema "Sicherheit":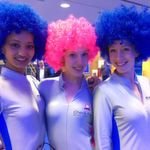 Die it-sa 2017 in Bildern
Oh­ne IT-Se­cu­ri­ty kei­ne di­gi­ta­le Re­vo­lu­ti­on: Mit fast 630 Aus­s­tel­lern grö­ß­er denn je war die Nürn­ber­ger IT-Se­cu­ri­ty-Mes­se it-sa 2017, die vom 10. bis 12. Ok­tober das ak­tu­el­le An­ge­bot an Si­cher­heits­lö­sun­gen prä­sen­tier­te. Eben­falls um­fang­rei­cher als in den Vor­jah­ren fiel auch das Vor­trag­s­pro­gramm aus.
Weiterlesen