Toon Boom Launches its First App for the iPad
Montreal

, (PresseBox) -
Emmy® Awardwinning Toon Boom Animation Inc. today announced the release of Flipboom Lite, a free app designed to easily create simple smoothlooking animation on your iPad.

FlipBoom Lite lets you use your fingertips to doodle, scribble or draw a sequence of images and see them move. Loaded with a sample project, Flipboom Lite offers introductory tools to learn and create animation in a fun and playful environment.

"Porting our technology to mobile devices is a natural move for Toon Boom. We are pleased to release Flipboom Lite, as our first foray in that direction", shared Joan Vogelesang, President and Chief Executive Officer at Toon Boom.

Information about Flipboom Lite is now available http://www.toonboom.com/app/?utm_source=Oempro4&utm_medium=Email&utm_term=http%3A%2F%2Fwww.toonboom.com%2Fapp%2F&utm_content=Subscriber%20%2351857&utm_campaign=20100809_press_iPad.
Toon Boom Animation Inc
Toon Boom Animation Inc. (toonboom.com) is the worldwide leader in animation software solutions. Toon Boom carries userfriendly animation applications for all and develops new geographies to make the animation community as global as can be. In that market segment, Toon Boom caters to the needs of children, home users, creative professionals as well as students, educators and schools.

As importantly, Toon Boom is fully dedicated to the needs of independent animators and studios, offering a wide product range from powerful preproduction tools to leadingedge animation production solutions. Relying on its extensive expertise in animation production, Toon Boom provides consulting services in the fields of optimization, pipeline integration, production assistance and custom development.

In 2005, Toon Boom was granted the Primetime Emmy® Engineering Award by the Academy of Television Arts & Sciences for its significant contribution made to the animation industry targeted for television. In 2006, the IT Federation of Quebec (FIQ) awarded an OCTAS 2006 in the Multimedia - educational and cultural sector category, for Toon Boom Studio. In 2007, FIQ awarded an OCTAS 2007 in the Technological Innovation category, for Toon Boom Storyboard Pro. In 2008, Flip Boom was granted a Parents' Choice Gold Award and a New Canadian Media Award in the Excellence in Children's category. In 2009, Flip Boom was selected as Editor's Choice by the prestigious Children's Technology Review for excellence in design. In 2010, Flip Boom All-Star was granted a Parents' Choice Silver Award.

Toon Boom's client base ranges from major studios creating Hollywood blockbuster animated films to individual animators creating their first masterpieces. Marketleading studios using Toon Boom's products include Nelvana, Warner Bros., Mercury Filmworks, China Central Television, Toonz Animation India, eMation, Rough Draft Korea, Alphanim, BKN, Cromosoma and Enarmonia, to name a few. Some of the prestigious productions done with Toon Boom's technology include Les Triplettes de Belleville, Looney Tunes: Back in Action, The Rugrats, SpongeBob The Movie, Hanuman, Curious George, Go West: A New Lucky Luke Adventure, Simpsons The Movie and The Princess and the Frog.

Diese Pressemitteilungen könnten Sie auch interessieren
Weitere Informationen zum Thema "Software":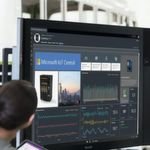 IoT-SaaS-Lösung für den einfachen Einstieg in das Internet der Dinge
Mi­cro­soft IoT Cen­tral ist ab so­fort als Pu­b­lic Pre­view ver­füg­bar. Mit der neu­en Soft­wa­re-as-a-Ser­vice (SaaS)-Lö­sung kön­nen Un­ter­neh­men ver­netz­te Pro­duk­te, Sys­te­me und Ma­schi­nen ent­wi­ckeln, be­reit­s­tel­len und zen­tral ver­wal­ten. So soll sich die Kom­ple­xi­tät beim Ein­s­tieg in das In­ter­net der Din­ge (IoT) ver­rin­gern: Ei­ne aus­ge­wie­se­ne Ex­per­ti­se für das Auf­set­zen und Ver­wal­ten von Cloud-In­fra­struk­tu­ren ist da­für nicht er­for­der­lich.
Weiterlesen