Scientific American Features SynCardia Total Artificial Heart & Freedom(TM) Portable Driver
Stable Total Artificial Heart Patients Wait at Home for Matching Donor Heart Thanks to 1st U.S. Portable Driver By Larry Greenemeier http://www.syncardia.com
Tucson

, (PresseBox) -
They say home is where the heart is, but until recently patients who had suffered biventricular failure could survive only with the help of an artificial heart tethered to a large, immobile driver system to maintain blood circulation while they awaited a heart transplant.

This could be changing; artificial heartmaker SynCardia Systems, Inc., in Tucson AZ, last month announced that three patients surgically implanted with the company's technology have been able to walk out of their respective hospitals and wait for donated replacement hearts in the comfort of their own homes... read more

*The Freedom portable driver is currently undergoing an FDAapproved IDE clinical study in the U.S. Through the IDE study, stable Total Artificial Heart patients who meet study criteria may have the option to be discharged from the hospital with the Freedom portable driver, to wait for their matching donor heart at home and in their communities.
SynCardia Systems Inc
SynCardia Systems, Inc. is the Tucsonbased manufacturer of the world's only FDA, Health Canada and CE approved Total Artificial Heart: the SynCardia temporary Total Artificial Heart. There have been more than 850 implants of the Total Artificial Heart, accounting for more than 190 patient years of life on the device.

Originally used as a permanent replacement heart, the Total Artificial Heart is currently approved as a bridge to human heart transplant for people dying from endstage biventricular failure. The Total Artificial Heart is the only device that provides immediate, safe blood flow of up to 9.5 L/min through both ventricles.

Signup to receive the latest news updates from SynCardia For additional information, please visit: http://www.syncardia.com or follow SynCardia on Twitter - @SynCardia_News

Diese Pressemitteilungen könnten Sie auch interessieren
Weitere Informationen zum Thema "Medizintechnik":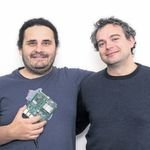 Diagnose mit der Intelligenz des Bauchgefühls
Ein Sound-Er­ken­nungs­sys­tem ana­ly­siert tech­ni­sche Pro­b­le­me bei Ma­schi­nen auf der Grund­la­ge von Be­triebs­ge­räu­schen und löst Alarm aus.
Weiterlesen