Smartrac Completes Sale of Secure ID & Transactions Business to Linxens
Amsterdam, The Netherlands

, (PresseBox) -
RFID and IoT pacesetter Smartrac today announced that it has completed the divesture of its Secure ID & Transactions Business Division to the Linxens Group. Terms of the transaction are not being disclosed.

The transaction, first announced in November 2016, enables Smartrac to further enhance the development of innovative RFID products and IoT-based solutions leveraging the company's technology market leadership in business segments such as industry, retail, automotive, healthcare and beyond. Smartrac retains its global manufacturing and sales network, a comprehensive patent portfolio and one of the largest production capacities in the RFID industry.

"The divestiture of our Secure ID & Transactions Business Division gives us a greater opportunity to focus on the development of cutting edge products and solutions, both of which provide strong growth opportunities in the markets," said Christian Uhl, CEO for Smartrac. "We extend our appreciation to the individuals within the Secure ID & Transactions team who helped lead and grow this Business Division over the years and wish them continued success."

Linxens, headquartered near Paris, France, is a global leader in the design and manufacture of smartcard connectors, inlays and LED light sources. The French company will take over all the employees, assets and contractual obligations assigned to Smartrac's Secure ID & Transactions Business Division, and will be allowed to use the Smartrac brand for the Secure ID & Transactions business for a period of up to 24 months.
SMARTRAC TECHNOLOGY GmbH
Smartrac is a leading vendor of RFID products and IoT solutions, providing both ready-made and customized offerings. We make products smart, and enable businesses to identify, authenticate, track and complement products and solutions. Our portfolio is used in a wide array of applications, such as animal identification, automation, automotive, brand experience, industry, library and media management, laundry, logistics, retail, supply chain management, and many more. Leveraging our global Research & Development Centers, production and sales network, and IoT-enablement platform Smart Cosmos, we embed intelligence into physical products, empowering the ecosystem of connected things. Smartrac has its registered headquarters in Amsterdam, the Netherlands. For more information, visit www.smartrac-group.com, www.smart-cosmos.com and follow us on www.twitter.com/SMARTRAC_NV.
Diese Pressemitteilungen könnten Sie auch interessieren
Weitere Informationen zum Thema "Hardware":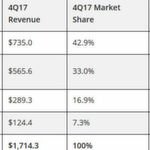 Umsatz konvergenter Systeme legt weltweit zu
Nach An­ga­ben der In­ter­na­tio­nal Da­ta Cor­po­ra­ti­on (IDC) ver­mel­de­te der "World­wi­de Quar­t­er­ly Con­ver­ged Sys­tems Tra­cker" für das vier­te Quar­tal 2017 ei­nen welt­wei­ten An­s­tieg der Um­sät­ze im Be­reich des kon­ver­gen­ten System­mark­tes um 9,1 Pro­zent. Hy­per­kon­ver­gen­te Sys­te­me out­per­for­men, an­de­re Teil­seg­men­te er­leb­ten Rück­gän­ge.
Weiterlesen