IDT Enters Smart Grid Market with New Family of Metering ICs
New Solutions Feature Industry's Best Dynamic Range and Low Temperature Drift
San Jose

, (PresseBox) -
Integrated Device Technology, Inc. (IDT®; NASDAQ: IDTI), a leading provider of essential mixed signal semiconductor solutions that enrich the digital media experience, today announced its entry into the smart grid industry with its first family of metering ICs for smart meters. The new IDT solutions feature the widest dynamic range in the industry as well as extremely high accuracy, helping improve the performance of smart meters.

The new IDT metering solutions (90E21, 90E22, 90E23, 90E24) feature a wide dynamic range of 5000:1, allowing manufacturers to merge the various types of meters currently available, such as 5(20)A, 10(40)A, 15(60)A and 20(80)A, into one standard model 5(100)A, simplifying the manufacturing process and reducing the storage and management complexity for utilities. In addition, the new IDT metering ICs feature low temperature drift.

"These new solutions are testament to the innovative work being done at IDT. By integrating our power management and system expertise with our digital heritage, we have created solutions allowing us to enter into a new target market," said Mansour Izadinia, senior vice president of Analog and Power at IDT. "These devices showcase the unique product development methodology at IDT. By working closely with our customers, we are bringing to market innovative products that address issues specific to existing devices available in the marketplace. By utilizing our unique skill set, we will continue to raise the competitive bar."

The new IDT metering ICs are fully compliant with International (both IEC and ANSI) and Chinese standards. The devices are fully programmable, and feature an antitampering mode for protection against energy meter tampering.

Pricing and Availability

The new IDT metering ICs (90E21, 90E22, 90E23, 90E24) come in a 28pin SSOP package and range in price from $0.80 to $1.00 for 10,000 units.

About IDT

With the goal of continuously improving the digital media experience, IDT integrates its fundamental semiconductor heritage with essential innovation, developing and delivering low-power, mixed signal solutions that help customers overcome their system challenges. Headquartered in San Jose, Calif., IDT has de-sign, manufacturing and sales facilities throughout the world. IDT stock is traded on the NASDAQ Global Select Stock Market® under the symbol "IDTI." Additional information about IDT is accessible at www.IDT.com. Follow IDT on Twitter and Facebook.
Macnica GmbH
Founded in 1978, Scantec is a European company headquartered in Munich with a subsidiary in the US (Ameribridge International Inc., Palo Alto), regional sales offices in Italy (Milan),Poland (Warsaw) and Czech Republic (Prague) as well as a strategic partner for system integration and IT related services. For decades Scantec is a successful hub for state of the art technology associated with knowhow, providing customers with a competitive advantage, minimizing time to market by integrating innovations of start up semiconductor companies with the market power of established key players. For more information on Scantec and our product lines, please visit our website: www.scantec.de/us

Homepages: www.scantec.de

Diese Pressemitteilungen könnten Sie auch interessieren
Weitere Informationen zum Thema "Hardware":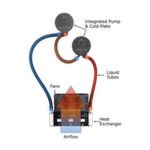 Asetek und Intel kühlen gemeinsam
Ase­tek ar­bei­tet ab so­fort mit In­tel zu­sam­men, um Re­chen­zen­t­ren und Ser­ver mit Was­ser zu küh­len. Dem­nächst soll die Vor­stel­lung ei­nes ers­ten ge­mein­sa­men Pro­duk­tes fol­gen.
Weiterlesen