ROCCAT(TM) Taito Kingsize - mTw Edition Gaming Mousepad for maximum freedom
Hamburg

, (PresseBox) -
ROCCAT(TM) , the young Hamburg developer of highend gaming peripherals presents the ROCCAT(TM) Taito Kingsize - mTw Edition Gaming Mousepad at gamescom. This extra large soft pad featuring a complex textile pattern with high comfort factor has been developed in coordination with the internationally popular gaming clan mTw, designed to the needs of the professional gamer.

EXTRA LARGE

Measuring 455x370mm, this mousepad offers an extremely large area for sweeping mouse movements, making the ROCCAT Taito Kingsize perfect for gamers who frequently use low sensitivity settings - socalled low sensers. Pro gamers in particular prefer low DPI settings as it allows them to guide their mouse pointer to the intended target with maximum precision.

OPTIMAL AXIS FLOW

Due to their fabric structure, standard mousepads only allow mice to glide freely in one direction. By contrast, the heattreated nano textile pattern, which has already made a name for itself on the highly praised ROCCAT(TM) Taito, significantly increases gliding performance across the X and Y axes.

SILENT + SOFT + NON-SLIP The ROCCAT(TM)

Taito Kingsize is virtually silent, is comfortable to touch thanks to its silkysoft finish, and it also protects the mouse's feet. At 3.45mm thick, it smoothes out potential unevennesses on your desktop and, together with the extremegrip backing, the ROCCAT(TM) Taito Kingsize offers maximum ease of use.

MTW EDITION - RECOMMENDED BY PROS

As an officially licensed product of the globally renowned and successful gaming clan mTw, many highly regarded and internationally respected pro gamers personally vouch for the quality of this product.

Andre "nooky" Utesch (Germany), winner of the ESL Pro Series, the European Nations Cup 2009 and the ESL Major Series II: "I've been using the ROCCAT Taito Mousepad for years now, but I always found it a little too small. Now I've found the perfect mousepad in the Kingsize Edition of the ROCCAT Taito Mousepad. It's got a really great design and I'm sure that it won't be just our fans that'll love it."

Das ROCCAT(TM) Taito Kingsize - mTw Edition Gaming Mousepad will be available for an MSRP of 24.99 Euro by the end of August 2010.

Features:

- HEAT-TREATED NANO PATTERN
for silence and comfort right in the heat of the gaming action

- IMPROVED AXIS FLOW
exact xy balance, precise mouse movements and control

- COMFORTABLE GAMING SIZE
455 x 370mm with a thickness of 3.45mm

- RUBBERIZED BACKING
provides heavy grip and security

- LONG LIFE MATERIAL
ruggedized for high strain

About mTw

In 1998, mTw cofounded the German eSports scene. A series of successes has led to the establishment of one of Germany's largest communities. Since its formation, mTw has been a byword for success, professionalism and continuity in the international clan scene. Even though the structure of eSports is continually changing, mTw can always be found among the top clans in Germany in terms of success and presence both at a national and international level. The mTw teams have chalked up major successes, including winning the titles of World Champions, German Champions and European Champions many times over. On top of that, mTw has won the World Cyber Games - the equivalent of the Olympic Games in the world of eSports. Currently, over 80 gamers actively play for mTw.

Eight different squads battle it out in games such as FIFA 2010, Counter-Strike, Call of Duty, Counter- Strike: Source, StarCraft 2, Quake Live, TrackMania, WoW PvE and WoW PvP at both national and international events.
ROCCAT GmbH
Founded in 2007, ROCCAT(TM) develops high quality and innovative accessories in Germany for ambitious computer gamers. In close collaboration with the gaming community, outstanding input devices and headsets, which excel through their firstclass precision, high level of easeofuse and unique design, are designed at ROCCAT(TM) Studios in Hamburg. The ROCCAT(TM) Kone Gaming Mouse was the first product to be launched by the Hamburgbased developer, and has played a leading role right from the outset in the world's premiere league of gaming mice. A host of international awards confirm the firstclass quality and outstanding range of functions of ROCCAT(TM) products.
Diese Pressemitteilungen könnten Sie auch interessieren
Weitere Informationen zum Thema "Hardware":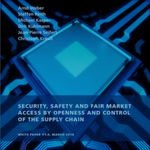 Open-Source auch für Hardware?
Ein Whi­te­pa­per emp­fiehlt, die Ent­wick­lung von Open-Sour­ce-Hard­wa­re zu be­sch­leu­ni­gen. Die Au­to­ren kom­men aus For­schungs­in­sti­tu­ten, aus de­nen ei­nen so weit­ge­hen­de For­de­rung eher nicht zu er­war­ten war.
Weiterlesen