ROCCAT(TM) Kone[+] - Max Customization Gaming Mouse
The further development of the successful ROCCAT(TM) Kone at this year's gamescom
Hamburg

, (PresseBox) -
ROCCAT, the young Hamburgbased manufacturer of gaming peripherals, will be presenting a world first in Cologne this year: the successor to the prizewinning ROCCAT(TM) Kone - Max Customization Gaming Mouse.

The ROCCAT Kone[+] - Max Customization Gaming Mouse packs a huge amount of performance under its hood thanks to the use of the revolutionary 6000dpi Pro-Aim Laser Sensor. In conjunction with its 10.5 megapixel resolution and 1000Hz polling rate, the Pro-Aim Laser Sensor offers maximum precision, even transmitting lightning fast mouse movements with up to 30Gs of acceleration and with speeds of up to 200ips (5.08m/s) without loss or lag. Thanks to the Tracking & Distance Control Unit (TDCU), which is now integrated in the laser sensor, the ROCCAT(TM) Kone[+] can also control liftoff distance as well as finetune the sensor to suit the mousepad, resulting in optimal tracking. In addition, really useful core improvements to the mouse wheel and surrounding buttons increase the ease of use of the Kone's successor.

The introduction of the EasyShift[+] Button makes it possible to assign two functions to each button, like using the Shift key on a keyboard. For instance, the eight programmable buttons plus the mouse wheel can now directly trigger an unparalleled 22 mouse functions - with all the buttons remaining easily accessible. A second button can be used for the EasyAim function. While the EasyAim button is held depressed, a preselected DPI setting is automatically switched to - really useful in situations such as when precise ingame aiming is called for, where lower DPI settings are quickly required. It really lives up to its name. The EasyWheel function works in the same way and can be used to control the Aero Flip 3D feature in Windows 7, among other things.

The featurerich driver has been further enhanced with additional innovative functions making it possible to customize the mouse to suit individual needs to the nth degree.

Like before, the light system remains unbeaten. Four Multicolor LEDs, together with the enhanced lightpipes and configurable effects, can light up, alternate or pulsate in more than four different colors at the same time. It's a real eyecatcher on any desktop!

The accompanying Macro Manager makes creating custom command sequences really easy. Predefined Macro Presets for the top 20 PC games as well as several office apps make it even easier to customize the mouse - plus the new Loop Function now makes it possible to loop macros indefinitely.

All the settings can be saved in five Game Profiles on the mouse's 576kB of onboard memory, and linked to games and apps, allowing button configurations, lighting setups and DPI settings, etc., to be automatically loaded when the game is started. A Windows Profile then automatically switches the Kone[+] back to the previously selected default setting as soon as the game is exited.

On top of that, there's the unique Sound Feedback system. The famous ROCCAT voice gives immediate feedback when DPI settings, profiles, the volume level or the sensitivity setting is changed.

Furthermore, a Weight System comprising 4 x 5g weights is included, allowing gamers to customize the weight to suit their preferences.

The ROCCAT(TM) Kone[+] - Max Customization Gaming Mouse will be available globally from Q3. The MSRP is €79.99.

Come to gamescom and get to hold and try out the ROCCAT(TM) Kone[+] - Max Customization Gaming Mouse for the first time.

ROCCAT™ at gamescom:
- Entertainment Area: Hall 9.1, A041
- Business Area: Hall 4.1, G030

During the fair, ROCCAT's Senior Product Manager will be there to exclusively answer press representatives' questions about product development and technical details.

Product Features:
- PRO-AIM Laser Sensor R2 (up to 6000dpi)
- EasyShift[+] Button for 22 mouse functions
- TDCU: Tracking & Distance Control Unit
- 4-LED Multicolor Light System for customizable colors and effects
- ROCCAT™ Driver + Macro Manager
- Macro Presets for games, multimedia & office apps
- EasyAim and EasyWheel function
- DPI-Switch – customizable in steps of 100dpi
- Sound Feedback for profile, DPI, sensitivity and volume changes
- 576kB Onboard Memory for 5 Game Profiles
- Easy-To-Clip-In weight system (4x5g)
- 8 mouse buttons + solid 4D mouse wheel
- 1000Hz polling rate
- 10.5 megapixel resolution, 11750fps
- 30Gs of acceleration
- Speeds of up to 200ips (5.08m/s)
- 16-bit data channel
- 72MHz TurboCore Processor
- Silent, frictionless Teflon® mouse feet
- 2m USB cable (USB 2.0)
- ROCCAT ID Card

Printable images, product trailer and product information: http://www.roccat.org/Downloads/PressKit/ROCCAT_KonePlus_Press-Kit.rar

Further information:

www.gamescom.de
www.roccat.org
ROCCAT GmbH
Founded in 2007, ROCCAT(TM) develops high quality and innovative accessories in Germany for ambitious computer gamers. In close collaboration with the gaming community, outstanding input devices and headsets, which excel through their firstclass precision, high level of easeofuse and unique design, are designed at ROCCAT(TM) Studios in Hamburg. The ROCCAT(TM) Kone Gaming Mouse was the first product to be launched by the Hamburgbased developer, and has played a leading role right from the outset in the world's premiere league of gaming mice. A host of international awards confirm the firstclass quality and outstanding range of functions of ROCCAT(TM) products.
Diese Pressemitteilungen könnten Sie auch interessieren
Weitere Informationen zum Thema "Hardware":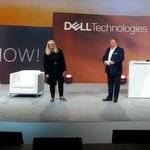 Digitalisierung erfordert nahtlose Kommunikation
Dells Ta­ges­ver­an­stal­tung "The Next Now!" In Mün­chen woll­te Hil­fe­stel­lung leis­ten auf dem Weg zur Di­gi­ta­li­sie­rung der Un­ter­neh­men in Deut­sch­land. Wel­che St­ra­te­gi­en und Rah­men­be­din­gun­gen er­wei­sen sich als güns­tig, was soll ver­mie­den wer­den?
Weiterlesen