RFMD® Expands Its Leading Product Portfolio for Mobile WiFi Market
Boston/Ma

, (PresseBox) -
RF Micro Devices, Inc. (Nasdaq GS: RFMD), a global leader in the design and manufacture of high-performance semiconductor components, today announced the expansion of the Company's WiFi product portfolio to include four new switch and switch/LNA products: the RF5500, RF5501, RF5510 and RF5511. The new family of front end solutions is designed to address the need for high performance and continued size reductions in mobile WiFi applications, including cellular handsets, personal navigation devices (PNDs), digital cameras and MP3 players.

The RF5500, RF5501, RF5510 and RF5511 each contain a single-pole, three-throw (SP3T) switch designed to enable multi-path operation in the embedded segment of the WiFi, or WLAN, consumer electronics markets. The RF5501 and RF5511 also integrate a low noise amplifier (LNA), providing for reduced footprint area with low insertion loss for RF architectures requiring additional Rx gain.

"We are pleased to expand our portfolio of WiFi switch and switch/LNA products to address the growing opportunities in WiFi-enabled mobile devices-with annual market growth expectations exceeding 15% in both calendar year 2010 and calendar year 2011," said Rohan Houlden, general manager of RFMD's Wireless Connectivity Business Unit. "This new family of products delivers a flexible, size-reduced solution to customers seeking to enhance the RF performance of 2.4 GHz consumer and general market products."

RFMD's WiFi and WiMAX Front End Portfolio

RFMD delivers a leading product portfolio enabling WiFi and WiMAX connectivity across multiple applications, including handsets, consumer electronics, desktop and laptop computers, client access cards, wireless access points, routers, consumer premises equipment (CPE) and base transceiver stations (BTS). RFMD's high performance WiFi and WiMAX products encompass all 802.11a/b/g/n and 802.16 applications and include amplifiers, power amplifiers, low noise amplifiers (LNAs), switches, switch/LNAs and highly integrated front end modules (with increased functionality such as baluns, couplers, filters and integrated passives).

Availability

Samples of the RF5500, RF5501, RF5510 and RF5511 are available immediately, and RFMD anticipates first revenue in the September 2009 quarter.
RFMD
RF Micro Devices, Inc. (Nasdaq:RFMD) is a global leader in the design and manufacture of high-performance semiconductor components. RFMD's products enable worldwide mobility, provide enhanced connectivity and support advanced functionality in the cellular handset, wireless infrastructure, wireless local area network (WLAN), CATV/broadband and aerospace and defense markets. RFMD is recognized for its diverse portfolio of semiconductor technologies and RF systems expertise and is a preferred supplier to the world's leading mobile device, customer premises and communications equipment providers.

Headquartered in Greensboro, N.C., RFMD is an ISO 9001- and ISO 14001-certified manufacturer with worldwide engineering, design, sales and service facilities. RFMD is traded on the NASDAQ Global Select Market under the symbol RFMD. For more information, please visit RFMD's web site at www.rfmd.com.

RF MICRO DEVICES® and RFMD® are trademarks of RFMD, LLC. All other trade names, trademarks and registered trademarks are the property of their respective owners.


Diese Pressemitteilungen könnten Sie auch interessieren
Weitere Informationen zum Thema "Kommunikation":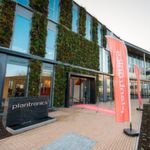 Plantronics übernimmt Polycom
Für rund zwei Mil­li­ar­den US-Dol­lar kauft Pl­an­tro­nics sei­nen Kon­kur­ren­ten Po­ly­com. Mit der Über­nah­me baut Pl­an­tro­nics sei­ne Po­si­ti­on im lu­k­ra­ti­ven UCC-Markt wei­ter aus.
Weiterlesen