Renesas Electronics Europe Unveils Rotational Flow Demonstration Kit based on Ultra-Low Power RL78/I1D Microcontroller
New Kit to be Showcased at embedded world 2017 Enables Long Life Span and Cost Efficiency for Energy Metering Applications
Düsseldorf

, (PresseBox) -
Renesas Electronics Europe, a premier supplier of advanced semiconductor solutions, today announced the ultra-low power RL78/I1D microcontroller (MCU)-based rotational flow demonstration kit that is designed to detect and measure the flow of water or gas in metering applications. The flow demonstration kit enables the lifespan of metering applications to exceed 35 years when combined with a 2600mAh battery. In addition, the flow demonstration kit is suitable for smart home as well as smart meter applications and gives system designers more freedom to create the products their market requires.

The rotational flow demonstration kit will be demonstrated at the Renesas booth (hall 1, booth no. 350) during embedded world 2017, which will take place 14 to 16 March in Nuremberg, Germany.

The rotational flow demonstration kit detects the rotational position using the MCU's on board data transfer controller (DTC) function, a form of state machine, while the MCU's core is in stop-mode state. This ensures that the average power consumption is kept as low as possible, with IAV (average current) at 4.5 microampere (μA) and a 32 sample burst per second.

The flow demonstration kit senses the flow direction and volumetric flow rate of water and gas, and can also detect reverse flow. The demonstration kit is applied using an active inductive method. Two coils are used to sense the rotational position of a part-metalized disk, and a third coil is used to generate a reference signal.

Renesas' rotational flow demonstration kit uses a simple electric motor to drive a metalized wheel to simulate the flow. System designers can control the sensor disk's revolutions per minute (RPM) by tuning the motor's direct current (DC) voltage. An optical sensor is included to determine the exact RPM of the disk. System designers can visualise the data captured by the new demonstration kit with Renesas' e² studio software development environment, which includes an easy-to-use debugger graphical user interface (GUI).
Renesas Electronics Europe
Renesas delivers trusted embedded design innovation with complete semiconductor solutions that enable billions of connected, intelligent devices to enhance the way people work and live - securely and safely. The number one global supplier of microcontrollers, and a leader in A&P and SoC products, Renesas provides the expertise, quality, and comprehensive solutions for a broad range of Automotive, Industrial, Home Electronics (HE), Office Automation (OA) and Information Communication Technology (ICT) applications to help shape a limitless future. Renesas was established in 2010 and is headquartered in Japan. With over 800 hardware and software alliance partners worldwide, it has the industry's largest local support network. Renesas Electronics' European structure is comprised of two business groups - automotive and industrial - as well as the Global ADAS Centre and the engineering group.

Further information about Renesas Electronics Europe is available at www.renesas.com
Diese Pressemitteilungen könnten Sie auch interessieren
Weitere Informationen zum Thema "Hardware":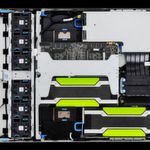 QCT bringt mit 4 Tesla-Akzeleratoren 21,5 TFLOPS in zwei Höheneinheiten unter
Mit dem Ser­ver "Quan­ta Grid D52B­V" auf zwei Höhen­ein­hei­ten adres­siert Quan­ta Cloud Tech­no­lo­gy (QCT) re­chen­in­ten­si­ve An­wen­dun­gen aus Be­rei­chen wie Vir­tual-Desk­top-In­fra­struk­tur, High Per­for­man­ce Com­pu­ting, künst­li­che In­tel­li­genz, De­ep Lear­ning, Vir­tual Rea­li­ty.
Weiterlesen