PIRONET NDH shows improved profitability
Cologne

, (PresseBox) -
PIRONET NDH made further progress in the first half of 2010. Although the rise in turnover was only minimal, the group's profitability improved markedly. The package of costcutting measures applied from the second half of 2009 is taking effect. PIRONET NDH is on the brink of breaking even, whereas the company was still in the red during the same period last year. Both the EBIT (EUR -0.2 m against EUR -0.7 m) and the financial results (EUR 0.2 m against EUR -0.4 m) were improved, meaning that profits before tax were just about in the black.

At the same time as this turnaround, earnings also showed an improvement in quality. While internally produced and capitalised assets still lay at around EUR 2.9 m during the same period last year, during the period under review they were cut by 41% to EUR 1.7 m. This, combined with cutbacks in investment (by -58% to EUR 3.0 m), generated free cash flow. On balance, net liquid assets increased considerably, from EUR 12.0 m at the end of 2009 to EUR 13.7 m on 30 June 2010.

The decision to set up PIRONET NDH as a holding company has proven to be wellfounded and precedentsetting. The five independent units act as standalone brands with the corresponding commercial freedoms required to take advantage of any opportunities for growth that appear on the market. In this respect, there has been some activity in the first six months of the current financial year, especially as regards acquiring new customers and generating new business, with some noteworthy deals being made, particularly in the fields of ITK Outsourcing and Consulting & Design.

In summary, while PIRONET NDH is moving in the right direction, more work needs to be put into software sales. The board is not satisfied with what has been achieved in this field in the first half of the year, although discussions, negotiations and projects with our customers leave us feeling confident that considerable advances will be made as the year progresses.
PIRONET NDH AG
PIRONET NDH AG offers the market a unique portfolio of solutions for handling digital content and data. This includes consultancy, software, integration and outsourcing services. PIRONET NDH AG is a corporate group that brings together five companies specializing in the five different business areas ICT outsourcing, consulting and design, content management solutions as well as ITsolutions for the industries retail / CPG and financial services. PIRONET NDH AG was founded in 1995 and is based in Cologne. Since 2000, it has been listed on the German stock exchange. The Group of companies employs more than 500 people working in 20 different countries and posted sales figures of around 60 million Euros in the last financial year (2009). For further information, please visit: www.pironet-ndh.com


Diese Pressemitteilungen könnten Sie auch interessieren
Weitere Informationen zum Thema "Software":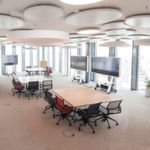 Fujitsu eröffnet europäisches Digital Transformation Center in München
Wenn der Wil­le zur Ve­r­än­de­rung da ist, die Zeit oder das Know-how für die Um­set­zung feh­len, dann muss sich der Weg der Hil­fe oder Zu­sam­men­ar­beit un­be­dingt än­dern. Dies gilt ganz be­son­ders dann, wenn es um die di­gi­ta­le Trans­for­ma­ti­on geht.
Weiterlesen