Laboratory record: new chip platform increases LED efficiency by 30%
Prototype of a red Golden Dragon Plus LED sets new record
Regensburg

, (PresseBox) -
Developers at OSRAM Opto Semiconductors have succeeded in increasing the efficiency of red thinfilm LEDs by 30% - a new record. The latest generation of thinfilm chips benefit from an optimized chip platform which has potential for further improvements. This boost in efficiency is opening up new LED applications in general illumination, in projection and in the industrial sector.

The record efficiency for an LED of 119 lm/W at an operating current of 350 mA (136 lm/W at 70mA) has been achieved by the latest generation of a red 1 mm² thinfilm chip (InGaAlP). The chip is accommodated in a Golden Dragon Plus package and emits at a wavelength of 615 nm (? dominant). At present there is no LED with higher efficiency at this wavelength. Its efficiency has been measured at 44% (49% at 70mA), and even exceeds 50% for a wavelength of 642 nm.

Higher efficiency means greater output for the same current and lower power consumption in the relevant applications. There are also new design options because fewer chips will be needed and therefore less space to produce the same brightness. In addition, almost 50% less waste heat needs to be removed, which in turn considerably reduces the need for cooling. As brightness increases, the light sources can be made smaller and smaller.

The improved performance of the LEDs greatly expands the possible applications for this innovative light source. For example, exceptionally high efficiency means that warm white LED solutions can be produced with better quality of light and a better energy balance through color mixing than through the usual conversion of blue light.

"This will benefit all applications that use highefficiency red, particularly projection applications. We expect to start equipping LED products with the new thinfilm chips in about a year's time," said Dr. Wolfgang Schmid, who is responsible for developing this chip technology at OSRAM Opto Semiconductors.

The 30% increase in the efficiency of the diode results from improved material properties, further development of the thin-film platform and greater output efficiency – and unencapsulated chips benefit even more from the improvements.
Osram Opto Semiconductors GmbH
OSRAM is part of the Industry sector of Siemens and one of the two leading lighting manufacturers in the world. Its subsidiary, OSRAM Opto Semiconductors GmbH in Regensburg (Germany), offers its customers solutions based on semiconductor technology for lighting, sensor and visualization applications. OSRAM Opto Semiconductors has production sites in Regensburg (Germany) and Penang (Malaysia). Its headquarters for North America is in Sunnyvale (USA), and for Asia in Hong Kong. OSRAM Opto Semiconductors also has sales offices throughout the world. For more information go to www.osram-os.com.
Diese Pressemitteilungen könnten Sie auch interessieren
Weitere Informationen zum Thema "Electrical Engineering":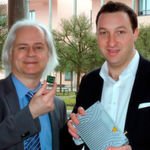 Sigfox und TH Deggendorf forschen am "1 Euro IoT"
Der IoT-Ser­vice­pro­vi­der Sig­fox wird künf­tig ge­mein­sam mit der Tech­ni­schen Hoch­schu­le Deg­gen­dorf am "1 Eu­ro Io­T" for­schen. Als Grund­la­ge di­ent da­bei das Low-Po­wer-Wi­de-Area-Netz­werk von Sig­fox.
Weiterlesen