Oracle Unveils New Release of Oracle's Agile Product Lifecycle Management (PLM)
Latest Enterprise PLM Offering Helps Mitigate Risk, Reduce Costs and Increase User Productivity
PLM Summit Miami, USA/München

, (PresseBox) -
.
News Facts

- Oracle today unveiled Oracle's Agile Product Lifecycle Management (PLM) 9.3, a new enterprise PLM offering with advanced risk analysis, an enterprise PLM backbone that integrates other applications and hundreds of productivity-enhancing innovations.
- This latest release equips customers to drive profitable innovations, mitigate risk, lower development and product costs and improve productivity across the entire product lifecycle.
- Agile PLM 9.3 represents the latest milestone for Oracle's "Applications Unlimited" program.

Innovations and Enhancements Deliver Substantial Business Value

Enhancements and innovations in Agile PLM 9.3 include:

Product Risk Management - Supplier performance changes, component shortages, price reductions and other global value chain uncertainties contribute to the high-risk environment companies face today. Agile PLM 9.3 extends the PLM analytics platform to provide:

- Supplier Risk Analysis - Identifies high-risk suppliers based on quality, compliance and over exposure, enabling users to make better decisions about their supplier relationships across product portfolio.
- Part Risk Analysis - Categorizes and identifies newly introduced parts, parts that lack product record information (price, compliance, specifications) or are at risk of obsolescence.
- Product Quality Risk Analysis - Detects which products are most impacted by quality issues, prioritizes customer complaints by urgency and severity.
- Product Design Volatility Analysis - Identifies which products or product lines have the most late-stage changes during the new product release cycle, and outlines the severity of those changes and operational impact.

These analytics enhancements are also available to customers running Agile PLM 9.2.2 and higher.

Enterprise PLM Backbone - Many existing design and document management applications fail to deliver strategic business value because of difficulties in integrating them with other business applications. In contrast, Agile PLM 9.3 provides a complete Service Oriented Architecture (SOA) that allows companies to integrate it's various components to existing engineering and enterprise systems. This enables companies to seamlessly deploy these PLM services and achieve their business objectives while managing costs. Some of the key features introduced in this release are:

- SOA Enterprise PLM Platform - Modularized web services, event management and extensible scripting for all PLM components including CAD objects to easily deploy, integrate, mash-up and extend product lifecycle processes.
- Integrated Product Master Data Management - Manage data mappings, improve data quality and data governance across the heterogeneous systems integrated to the Enterprise PLM Backbone.
- Oracle® Application Integration Architecture (AIA) - Continued development of out-of-the-box open standards-based integrations to broader enterprise systems including Oracle and SAP.

User Productivity Tools - Agile PLM 9.3 enhances user productivity by leveraging a Web 2.0 User Interface. Lab tests of Agile PLM 9.3 using real product data from a large global customer showed a 70 percent reduction in clicks and improvements to user productivity. New productivity improvements include:

- New User Interface Controls - In-line table editing, context aware pop-ups, new drag and drop capabilities, type ahead fields and more streamlined controls.
- Enhanced User Personalization - Column-locking, ordering and hiding, multi-column sorting and filtering, and personal views.
- Simplified Access - expose Agile documents directly to the desktop file browser or point Agile PLM to existing document vaults.
- User Training Management - Personalized context help through Oracle User Productivity Kit (UPK) and video quick tours to reduce deployment time and training significantly.

Continued Process Enhancements

- Agile PLM 9.3 also contains hundreds of additional enhancements to processes across all modules including - Product Collaboration, Engineering Collaboration, Product Cost Management, Product Governance and Compliance, Product Quality and Project Portfolio Management.

Supporting Quotes

- "Quantum has been a long time user of Oracle's Agile Product Lifecycle Management, relying on it to help drive product data consistency, support new product development and time-to-market and create global alignment around our product objectives. This has been particularly important as we've built out our portfolio of disk-based, deduplication and replication solutions and reinforced our leadership in backup, recovery and archive," Daniel Hartley, PLM Applications Manager, Quantum Corporation. "With Agile PLM 9.3, we can see improved usability and productivity in our product development processes and will be able to leverage our current applications infrastructure with the Enterprise PLM Backbone in 9.3."
- "Agile has had a tradition of being easy to use and the enhancements in version 9.3 belay any concerns that the Oracle acquisition would dilute this advantage. Agile has also led the PLM market with analytics and this continues to be true with the latest improvements," said Michael Burkett, AMR Research.[i]
- "Today, PLM has become a highly strategic tool that can impact profitability, mitigate risks and improve enterprise productivity," said Oracle Vice President, PLM Product Strategy Hardeep Gulati. "With this latest release, Oracle extends its lead in delivering Enterprise-class PLM by giving organizations more out-of-the- box processes to support their corporate initiatives within the framework of a scalable, enterprise PLM backbone."

General Availability

- Oracle's Agile Product Lifecycle Management 9.3 is currently available.

Supporting Resources

- Oracle's Agile Product Lifecycle Management
- Oracle Introduces Oracle's Agile Product Lifecycle Management Integration to SAP ERP
- Oracle's Agile PLM Blog
- Oracle's Agile PLM Twitter Feed
Oracle Deutschland GmbH
Oracle (NASDAQ: ORCL) is the world's largest business software company. For more information about Oracle, please visit our Web site at http://www.oracle.com.
Oracle is a registered trademark of Oracle Corporation and/or its affiliates. Other names may be trademarks of their respective owners.


Diese Pressemitteilungen könnten Sie auch interessieren
Weitere Informationen zum Thema "Software":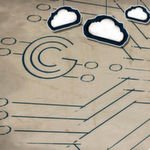 Warum "Minimum Viable Cloud" ein Schreckgespenst ist
Et­wa vor ei­nem Jahr hör­te ich im Rah­men ei­ner Pro­jekt­be­sp­re­chung erst­mals das sch­reck­li­che Akr­o­nym "MVC". Mein Kon­takt nann­te die­se Ab­kür­zung wie­der und wie­der und ich wuss­te nicht, was sie be­deu­te­te. Zu­nächst tipp­te ich auf "Mo­del-View-Con­trol­ler", bis ich lern­te, dass MVC für "Mi­ni­mum Via­b­le Clou­d" steht. Der Be­griff lei­tet sich von "Mi­ni­mum Via­b­le Pro­duc­t", kurz MVP ab, wört­lich ein "mi­ni­mal über­le­bens­fähi­ges Pro­duk­t".
Weiterlesen