Printed electronics makes its way into ever more products
The new OE-A Roadmap presents a diverse range of application examples as well as challenges for organic and printed electronics
Munich, Germany

, (PresseBox) -
Organic and printed electronics has become established in many important industry sectors. From the Internet of Things, consumer electronics and healthcare to automotive, smart packaging and buildings – printed electronics is now used in numerous products and industries worldwide. This is one of the central results of the seventh edition of the Roadmap published by the OE-A (Organic and Printed Electronics Association), a working group within VDMA, on the occasion of LOPEC 2017.

Continuous increase in interest and wider use in different fields of application and industries

"Major industries, including automotive and consumer electronics, have come to embrace organic and printed electronics by integrating this technology in their products. It is clear that OLED displays and lighting are still the driving force for this technology. The new OE-A Roadmap reflects this development by including important industry sectors and by explaining how printed electronics enhances their products," says Dr. Wolfgang Clemens, Spokesperson of OE-A Roadmap and Head of Product Management PolyTC at PolyIC. "Of course, we also examine the progress made in individual application clusters ranging from OLED Lighting, OPV, OLED and Flexible Displays, to electronics & components and integrated smart systems – and not to forget the development in materials and processes," he adds.

These positive findings are also reflected in the key parameters reliability, capital expenditure, cost, environmental impact, and standards. By now, there is hardly any differentiation between application and technology parameters anymore, which underlines the increasing maturity of the printed electronics industry.

The OE-A's experts expect continued strong growth in the coming years, triggered by new and improved materials, equipment, processes and device design. However, there are also some areas where technological barriers, also referred to as "Red Brick Walls", need to be overcome. These are also identified in the Roadmap, including to point out areas where additional development is needed.

A summary of the seventh edition of the OE-A Roadmap for Organic and Printed Electronics is included in the new OE-A Brochure, which is available at the OE-A booth 510 (Hall B0) at LOPEC 2017 as well as on the OE-A website. The "White Paper: OE-A Roadmap for Organic and Printed Electronics" will be published in June 2017, containing more details about the applications and technologies.

LOPEC

The OE-A and Messe München are the hosts of LOPEC, the premier international exhibition and conference for the printed electronics industry. It addresses end-users, engineers, scientists, manufacturers, and investors. LOPEC 2017 will be held March 28th to 30th, 2017 at Messe München, Germany. www.lopec.com
OE-A (Organic and Printed Electronics Association)
The OE-A (Organic and Printed Electronics Association) was founded in December 2004 and is the leading international industry association for organic and printed electronics. The OE-A represents the entire value chain of this emerging industry. Our members are world-class global companies and institutions, ranging from R&D institutes, mechanical engineering companies and material suppliers to producers and end-users. Well over 200 companies from Europe, Asia, North America, South America, Africa and Oceania are working together to promote the establishment of a competitive production infrastructure for organic and printed electronics. The vision of the OE-A is to build a bridge between science, technology and application. The OE-A is a working group within VDMA. More than 3,100 member companies from the engineering industry make VDMA the largest industry association in Europe. www.oe-a.org

Organic and printed electronics

Organic and printed electronics stands for a revolutionary new type of electronics: they are thin, lightweight, flexible, robust and produced at low cost. It enables new applications, including single-use devices enabling ubiquitous electronics.

Diese Pressemitteilungen könnten Sie auch interessieren
Weitere Informationen zum Thema "Elektrotechnik":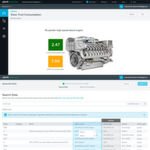 Splunk wertet industrielle IoT-Daten aus
Mit Sp­lunk In­du­s­trial As­set In­tel­li­gen­ce (IAI) stellt der Spe­zia­list für Ma­schi­nen­da­ten sei­ne ers­te Lö­sung für das In­ter­net der Din­ge (IoT) vor. Sie er­mög­licht die Aus­wer­tung in­du­s­tri­el­ler IoT-Da­ten.
Weiterlesen