Micron Introduces New Memory Device Supporting Intel Processor-Based Tablets and Netbooks
New 2-Gigabit 50-Nanometer DDR2 Memory Provides Key Benefits to the Upcoming Intel® Atom(TM) Platform
BOISE, Idaho

, (PresseBox) -
Micron Technology, Inc. (Nasdaq:MU) today announced a new 2gigabit (Gb) 50nanometer (nm) DDR2 memory device to support the upcoming Intel® Atom(TM) platform for tablet and netbook personal computers, codenamed "Oak Trail." The small form factor, highdensity and lowpower consumption of the 2Gb 50nm DDR2 makes it an ideal memory solution for the tablet PC market where size and battery life are key features.

The transition of Micron's 2Gb DDR2 product to the more advanced 50nm process node demonstrates the company's continued commitment and ongoing investment in technologies that meet market demand. In addition to the increase in density from 1Gb to 2Gbbased components, the move to the 50nm process inherently provides improved power savings and a smaller memory footprint.

"Micron's 2Gb 50nm DDR2 device is the ideal memory companion for Intel's upcoming Intel® Atom(TM) processorbased 'Oak Trail' platform," said Robert Feurle, Micron's vice president of DRAM Marketing. "Given its lowpower demands, maximum density and high performance, it is wellsuited for the thriving tablet market. Additionally, Micron is committed to this 50nm product line and looks forward to providing ongoing support for customers' innovations around this technology."

"The upcoming Intel® Atom(TM) 'Oak Trail' platform is optimized specifically for tablets and sleek netbook designs," said Erik Reid, director, Mobile Product Group at Intel. "With its low power and performance for multitasking, rich media and the Internet, the features and benefits of 'Oak Trail,' in combination with Micron's 2Gb 50nm DDR2 provide a powerful solution for our joint customers' design needs."

Micron has maintained a highlevel of quality in delivering DDR2 memory for customers, offering premium performance and multiple configurations, densities, and package options. The new 50nm DDR2 product line includes:

- Multiple density options available in 512 megabit (Mb) to 2Gb components in X4/X8/X16 packages
- Highcapacity module configurations ranging from 1GB to 4GB UDIMMS and SODIMMS
- Up to 800 megatransfers per second (MT/s) providing a migration path for higher bus speeds
- Supporting 1.55volt for reducing memory system power demands

Availability

Micron is expected to begin sampling its 2Gb 50nm DDR2 device in September 2010 with production planned for Q4 2010.

Relevant Links

There are other ways to stay uptodate on Micron news:

- Micron Innovations Blog: http://www.micronblogs.com
- Micron on Twitter: http://twitter.com/microntechnews
- Micron Pressroom: http://www.micron.com/media
Micron Semiconductor (Deutschland) GmbH
Micron Technology, Inc., is one of the world's leading providers of advanced semiconductor solutions. Through its worldwide operations, Micron manufactures and markets a full range of DRAM, NAND and NOR flash memory, as well as other innovative memory technologies, packaging solutions and semiconductor systems for use in leadingedge computing, consumer, networking, embedded and mobile products. Micron's common stock is traded on the NASDAQ under the MU symbol. To learn more about Micron Technology, Inc., visit http://www.micron.com.

Diese Pressemitteilungen könnten Sie auch interessieren
Weitere Informationen zum Thema "Hardware":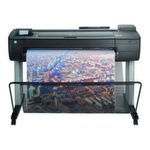 Markt für Großformat-Drucker dümpelt so dahin
Die Nach­fra­ge ist da, aber die Um­sät­ze stag­nie­ren. Die Markt­for­scher von IDC er­ken­nen für die An­bie­ter kei­ne Hoff­nungs­zei­chen auf bes­se­re Ge­schäf­te. An­wen­der aber kön­nen auf güns­ti­ge­re Prei­se set­zen.
Weiterlesen