Hearst Magazines Digital Media and metaio Premier World's First Markerless Augmented Reality Online Shopping Experience on Seventeen.com
Exclusively sponsored by JCPenney, shopping application enables consumers to try on clothes and buy right from home
San Francisco/New York

, (PresseBox) -
Hearst Magazines Digital Media and metaio, a leader in augmented reality applications, today announced that the two companies have launched the first ever markerless augmented reality online shopping application on Seventeen.com. Launching just in time for the Backto-School season, the "virtual dressing room," which will be sponsored exclusively by JCPenney, will give users the ability to try on clothes and link to jcp.com to purchase their favorite selections right from their home.

"The application is a true breakthrough in online product visualization, as clothes are automatically overlaid on the consumer's realtime video image through their webcam," said Kristine Welker, vice president of sales and marketing for Hearst Magazines Digital Media. "With the help of our exclusive retail partner JCPenney, the virtual dressing room makes online shopping easy and viral: with a simple wave of a hand, shoppers can select, rate and share their top picks with friends via Facebook or email, and even purchase the items directly from jcp.com."

The experience combines four popular technologies: augmented reality, motion capture, social media and eCommerce. Created in Adobe Flash, the virtual dressing room does not require a plugin and is very simple to use. Here is how it works: (1) the application detects the shopper in front of his or her webcam at home, (2) the shopper selects the piece of clothing, (3) it overlays the selected piece of clothing to see its style and (4) users can then link to jcp.com to purchase their selections or send to friends via email or Facebook. This is the first instant online dressing room, where the fitting of the clothing happens automatically and within the livevideo stream. The shoppers do not need a marker or an upload of a still image. The shoppers can try various outfits by simply pointing at the icons within the app to scan through the digital catalog of clothing pieces, enabled by motion capture technology.

"Teens have long turned to Seventeen as a trusted style authority," said Mike Boylson, executive vice president and chief marketing officer for JCPenney. "Through this unique collaboration with Seventeen.com, we're able to merge teen's love of technology and shopping, and provide an interactive experience that allows them to discover the exciting, affordable fashion available at JCPenney." "This is the first truly instant online dressing room and as opposed to other augmented reality applications no markers or uploads needed," said Noora Guldemond, head of sales & marketing for metaio. "We believe this application provides an enhanced interactive online shopping experience for the consumer. We are very excited to be working with Hearst Magazines Digital Media on delivering this unique shopping tool."

E-Commerce is becoming ME-Commerce

Context sensitive product visualization that takes into account individual consumer preferences is the next big breakthrough in online shopping. Already in use for furniture or accessories, this important functionality has now reached the market with the biggest growth potential. Within the comfort of their home, consumers can make more confident online buying decisions, as they can try and buy the clothes as they wish, making the shopping experience outstanding: seamless, intuitive, innovative and social.

A video about "The Virtual Dressing Room" can be found here:
http://www.youtube.com/watch?v=fhjuZMEJ4-U

More information:

www.seventeen.com/fashion/virtual-dressing-room
www.metaio.com
http://www.hearst.com

About Hearst Magazines Digital Media

Launched in March 2006, Hearst Magazines Digital Media, a unit of Hearst Magazines, is dedicated to creating and implementing the digital strategy for Hearst's magazine brands and other sites which serve the company's consumer audience. The unit has launched, relaunched or acquired 24 Web sites and 10 mobile sites for brands such as Cosmopolitan, Esquire, Good Housekeeping, Marie Claire and Seventeen, as well as digitalonly sites such as Delish.com, a food site in partnership with MSN; TheDailyGreen.com; and teen sites MisQuinceMag.com and RealBeauty.com. Hearst Digital has also acquired Q&A platform Answerology.com; teen sites eCRUSH.com and eSPIN.com; social shopping site Kaboodle.com, and consumer health site RealAge.com. Currently, Hearst Magazines has eight iPod applications; all of its titles are available on the iPad via the Zinio application; and, on July 1, Popular Mechanics will launch its own iPad application, followed shortly by Esquire and six other leading Hearst brands.

About Seventeen

Seventeen (http://www.seventeen.com) is the bestselling monthly teen magazine, reaching more than 13 million readers every month. In each issue, Seventeen reports on the latest in fashion, beauty, health and entertainment, as well as information and advice on the complex reallife issues that young women face every day. Readers can also interact with the brand on the digital front, with Seventeen mobile (m.seventeen.com) and the first Seventeen branded iPhone app, Seventeen Fashion Finder. In addition to its U.S. flagship, Seventeen publishes 13 editions around the world. Seventeen is published by Hearst Magazines, a unit of Hearst Corporation (http://www.hearst.com) and one of the world's largest publishers of monthly magazines, with nearly 200 editions around the world, including 15 U.S. titles and 20 magazines in the United Kingdom, published through its wholly owned subsidiary, The National Magazine Company Limited. Hearst Magazines is the leading publisher of monthly magazines in the U.S. in terms of total circulation (ABC, Dec. 2009) and reaches 73 million adults (MRI, Fall 2009).
metaio GmbH
As the worldwide leader in augmented reality technology, metaio develops software products for visual interactive solutions between the real and the virtual world. Based on the software platform Unifeye, 3Danimations can be integrated seamlessly into livevideo streams respectively into pictures of the user's real environment. Founded in February 2003, metaio currently employs 60+ people at three different locations. The company is headquartered in Munich with the subsidiaries metaio Inc. located in San Francisco USA and metaio Asia in Seoul. metaio has been working with more than 340 renowned customers from different industries and geographical locations. Among them: BMW, LEGO, Daimler, Siemens, Toyota, Peugeot, Adidas, Bertelsmann, MINI, Popular Science, Focus Features and Volkswagen.

Please find an elaborate technology and company portrait here:
http://www.youtube.com/...

Diese Pressemitteilungen könnten Sie auch interessieren
Weitere Informationen zum Thema "Software":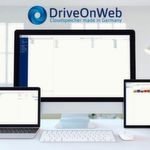 DriveOnWeb in neuem Design
Die abi­lis GmbH stellt ab heu­te den deut­schen Cloud­spei­cher "Dri­ve­On­We­b" in neu­er Ver­si­on mit ei­nem grund­le­gend über­ar­bei­te­ten De­sign und ei­ner kom­p­lett neu ge­dach­ten Be­nut­zer­füh­rung be­reit. Mit dem Mar­ken­re­launch bie­tet der Soft­ware­her­s­tel­ler ei­nen Cloud­spei­cher für Un­ter­neh­men und Pri­vat­per­so­nen, der nach deut­schem Da­ten­schutz­recht be­trie­ben wird.
Weiterlesen