Laird Technologies Releases Enhanced Cascade Series Thermoelectric Assemblies
New Thermoelectric Assemblies Achieve Higher Cooling Capacities at Colder Temperatures
St. Louis, Missouri, USA

, (PresseBox) -
Laird Technologies, Inc., a global leader in the design and supply of customized performancecritical components and systems for advanced electronics and wireless products, today announced the release of its enhanced Cascade Series Thermoelectric Assemblies (TEAs).

The Cascade Series TEAs are custom designed cooling assemblies that use multistage Thermoelectric Modules (TEMs) to achieve a high temperature differential from ambient. This product series can produce up to a 40% higher cooling capacity at cold temperatures, surpassing standard product offerings with similar form factors.

One of the key benefits of the Cascade Series TEA is its compact size, solidstate construction, and ability to be located directly onto the actual device requiring cooling. Direct placement of the TEA reduces the need in many low temperature applications to use a conventional compressorbased cooling system, which generally cannot be integrated into the end user's devices due to its size.

Two standard configurations, as well as custom configurations which require a Minimum Order Quantity (MOQ), are available. The standard configurations include:

Air-Air (AA) - Convection cooling method where heat is absorbed and dissipated by highdensity heat exchangers equipped with airducted shrouds and fans. Products in this series include AAC-050-24-22-00-00.

Direct-Air (DA) - Conduction cooling method where heat is absorbed through a cold plate and dissipated by highdensity heat exchangers equipped with airducted shrouds and fans. Products in this series include DAC-035-12-02-00-00 and DAC-060-24-02-00-00.

"Current TEA product offerings are designed with singlestage TEMs. The cooling capacity of these devices can drop to less than 30% of maximum cooling power at temperature differentials greater than 30?C from ambient," said Andrew Dereka, Laird Technologies Thermoelectrics Product Manager. "However, at the same temperature differential, the cooling capacity of similar form factor Cascade TEAs is almost 60% of maximum cooling power. This opens up a new cooling spectrum that is currently served by conventional compressorbased systems."

The Cascade Series TEAs are ideal for use in analytical instruments requiring cooling to well below zero Celsius. They are also applied in medical applications so the temperature of samples placed in storage compartments or centrifuges can be tightly controlled. Imaging applications utilize the TEAs to cool sensitive devices to below freezing in order to maximize the bandwidth of the light spectrum captured by the Charge-Coupled Device (CCD). The Cascade Series TEAs adhere to tight geometric space constraints by offering greater performance, higher reliability, and low cost of ownership. Their advanced capabilities are aided by new material technologies, thinner profiles, and automated assembly.
Laird Technologies GmbH
Laird Technologies designs and manufactures customized, performancecritical products for wireless and other advanced electronics applications.

The company is a global market leader in the design and supply of electromagnetic interference (EMI) shielding, thermal management products, mechanical actuation systems, signal integrity components, and wireless antenna solutions, as well as radio frequency (RF) modules and systems.

Custom products are supplied to all sectors of the electronics industry including the handset, telecommunications, data transfer and information technology, automotive, aerospace, defense, consumer, medical, and industrial markets.

Laird Technologies, a unit of Laird PLC, employs over 10,000 employees in more than 39 facilities located in 13 countries.
Diese Pressemitteilungen könnten Sie auch interessieren
Weitere Informationen zum Thema "Hardware":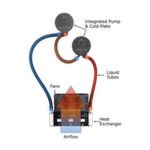 Asetek und Intel kühlen gemeinsam
Ase­tek ar­bei­tet ab so­fort mit In­tel zu­sam­men, um Re­chen­zen­t­ren und Ser­ver mit Was­ser zu küh­len. Dem­nächst soll die Vor­stel­lung ei­nes ers­ten ge­mein­sa­men Pro­duk­tes fol­gen.
Weiterlesen