Keysight Launches E-Mobility Test, Measurement Innovations Enabling Cost-Effective, High-Power/High-Voltage Product Deployments
New solutions enable advancement of cell and battery technologies, electrical powertrain components, and sub-systems used in hybrid and electric vehicles, and in associated energy storage units
Santa Rosa, Calif.

, (PresseBox) -

High-power/high-voltage power converter test solution—enables safe and effective testing of power converters and on-board charging sub-systems present in hybrid and electric vehicles (HEV/EV) and home energy management systems (HEMS)
Regenerative power system with high-power/high-voltage battery emulation capabilities and best-in-class power regeneration—ensures efficient testing due to re-use of energy and reduced cooling requirements
Li-Ion cell test systems—provide a significant reduction in time required to measure cell self-discharge characteristics and discern cell quality; and offers significantly reduced cell design and evaluation cycle times


Keysight Technologies, Inc. (NYSE: KEYS) today announced the launch of a suite of test and measurement solutions for the rapidly growing battery, HEV/EV and HEMS markets.

The global electric vehicle market—ranging from mild hybrids to battery electric vehicles and HEMS—are fast growing and very dynamic, with a large number of new application areas and implementation characteristics. Based on these dynamics, many cell and battery manufacturers are facing challenges to deal with the exponential demand for costly, high-power/high-voltage cells in the 300 V range. This is compared to the traditional, more cost-efficient 12 V cells.

Keysight's suite of electric vehicle and HEMS solutions provide design and test engineers powerful, versatile and efficient solutions that will help drive their innovations to market faster, and at a lower cost.

EV1003A Power Converter Test Solution – designed specifically to address the efficiency, safety, regulatory and environmental challenges associated with the HEV/EV and HEMS markets. Currently, it's the only commercial off-the-shelf regenerative power system with highly integrated safety features that protect operators and the devices under test.

RP7900 Series Regenerative Power System – offers battery emulation capabilities, such as 2-quadrant (source/sink) operation and programmable output resistance. In addition, the power system provides the added benefit of safely and cleanly regenerating greater than 85 percent of power back into the grid—which increases efficiency based on reduced energy consumption and cooling requirements.

BT2191A Self-Discharge Measurement (SDM) System – for cell designers, the BT2191A SDM system offers a new way to accurately measure Li-Ion cells' self-discharge currents, within a significantly reduced amount of time and with a settling time as low as one to two hours. This new patented technique allows engineers to dramatically reduce the design cycle-time and helps to optimize self-discharge performance and characteristics of battery cells.

BT2152A Self-Discharge Analyzer (SDA) – for Li-Ion cell manufacturers, the BT2152A SDA offers a new type of analyzer that measures in parallel self-discharge currents on a large number of cells, providing a significant reduction in the time required to discern good versus bad cell self-discharge performance. This helps achieve dramatic reductions in work-in-process inventories, working capital and facility costs.

"As higher-voltage batteries and devices are added to electric vehicles, and the push for e-mobility-based concepts continues, designers and manufacturers need to deal with economic challenges while mitigating safety risks and ensuring high quality products for end-users at the same time," said Siegfried Gross, vice president and general manager of Keysight's Automotive & Energy Solutions business unit. "Keysight has in-depth experience in power electronics—from generation to conversion—and moving it from source to load. We will continue to focus our innovations on design and test solutions, which will help to advance battery, EV/HEV and HEMS applications and implementations from an economic, performance and safety perspective across the entire lifecycle."
Keysight Technologies Deutschland GmbH
Keysight Technologies is a leading technology company that helps its engineering, enterprise and service provider customers optimize networks and bring electronic products to market faster and at a lower cost. Keysight's solutions go where the electronic signal goes, from design simulation, to prototype validation, to manufacturing test, to optimization in networks and cloud environments. Customers span the worldwide communications ecosystem, aerospace and defense, automotive, energy, semiconductor and general electronics end markets. Keysight generated revenues of $2.9B in fiscal year 2016. In April 2017, Keysight acquired Ixia, a leader in network test, visibility, and security. More information is available at www.keysight.com.


Diese Pressemitteilungen könnten Sie auch interessieren
Weitere Informationen zum Thema "Hardware":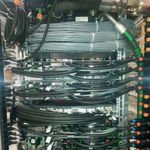 Der Supercomputer QPACE3 ist dem Urknall auf der Spur
Den Su­per­rech­ner "QPACE3" ver­wen­den die Uni­ver­si­tä­ten Re­gens­burg und Wup­per­tal so­wie das Jü­lich Su­per­com­pu­ting Cent­re im Rah­men des Son­der­for­schungs­be­rei­ches SFB/TRR-55 für nu­me­ri­sche Si­mu­la­tio­nen, et­wa in der Quan­ten-Chro­mo­dy­na­mik. Ziel ist es un­ter an­de­rem, den Zu­stand des Uni­ver­sums kurz nach dem Ur­k­nall zu ver­ste­hen. Das Herz­stück ist ein Clus­ter aus "Fu­jit­su Pri­mer­gy"-Ser­vern.
Weiterlesen