AboveNet Selects JDSU's Innovative Fiber Inspection and Testing Solution
Milpitas, Calif.

, (PresseBox) -
JDSU announced today the standardization of its HP3-60 fiber inspection and power meter product line with AboveNet, Inc., (NYSE: ABVT) a leading provider of high-bandwidth connectivity solutions. JDSU's HP3-60 product line will support AboveNet's ongoing best practices by providing consistent high-quality inspection and testing of the high bandwidth connectivity its customers depend on.

The HP3-60 is the industry's only low-cost solution for inspecting and testing fiber networks with one handheld device. By combining fiber inspection and optical power measurement into a single handheld unit, JDSU provides field technicians with a way to work more productively by decreasing total fiber inspection and test time.

"The JDSU solution is a homerun for our fiber technicians," said Chris Moore, Director Mid Atlantic Operations, AboveNet. "Having one meter do it all will improve their efficiency and reduce our time to test. This will help speed installations and repairs of our customers' critical networking needs."

The HP3-60 combines a probe and patch-cord microscope, allowing users to quickly inspect both male and female fiber end-faces of a fiber optic connection on a TFT LCD screen, and an optical power meter to measure the power of an optical signal. The dual inspection eliminates the need to switch tips or use mating adapters.

"By combining a power meter, probe, patch-cord viewer and display into one device, JDSU makes fiber inspection and testing fast and easy," said Jim Nerschook, vice president and general manager in JDSU's Communications Test and Measurement business segment. "JDSU leads the industry in promoting Inspect Before You Connect best practices when handling optical connectors and we are excited about partnering with AboveNet to help them achieve their standardization goal."

The HP3-60 also works in tandem with the JDSU T-BERD®/MTS 4000, 6000, and 8000 systems and is compatible with JDSU's library of over 200 tips and adapters for inspecting every connector in a network.

Please visit www.jdsu.com/inspect for more information.

About AboveNet, Inc.

AboveNet, Inc. provides high-bandwidth connectivity solutions for business and carriers. Its private optical network delivers key network and IP services in and among 15 top U.S. metro markets and London. AboveNet's network is widely used in demanding markets such as financial services, media, health care, retail and government. To learn more go to www.above.net
JDSU Deutschland GmbH
JDSU (NASDAQ: JDSU; and TSX: JDU) enables broadband and optical innovation in the communications, commercial and consumer markets. JDSU is the leading provider of communications test and measurement solutions and optical products for telecommunications service providers, cable operators, and network equipment manufacturers. JDSU is also a leading provider of innovative optical solutions for medical/environmental instrumentation, semiconductor processing, display, brand authentication, aerospace and defense, and decorative applications. More information is available at www.jdsu.com.

Diese Pressemitteilungen könnten Sie auch interessieren
Weitere Informationen zum Thema "Hardware":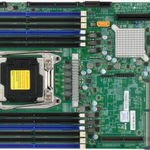 Supermicro stellt neue Blades und Storage-Systeme vor
Un­ter dem Stich­wort "res­sour­cen­scho­nen­de Da­ta­cen­ter-Tech­ni­k" be­zie­hungs­wei­se "We Keep IT Gre­en" hat Su­per­mi­cro kürz­lich für Cloud-Re­chen­zen­t­ren opti­mier­te die Mul­ti-No­de-Rech­ner "Big Twin" und "Su­per Bla­de" vor­ge­s­tellt so­wie ein nach ei­ge­nen An­ga­ben kos­ten­ef­fi­zi­en­te 45/60/90-"Bay Sto­ra­ge"-Sys­te­me, die den Le­bens­zy­k­lus von Ser­ver-Res­sour­cen ver­län­gern.
Weiterlesen