immatics biotechnologies significantly improves XPRESIDENT(TM) technology platform
Direct peptide quantification will allow novel approach in antigen discovery
Tübingen

, (PresseBox) -
immatics biotechnologies today announced the completion of the next generation of its proprietary antigen discovery engine XPRESIDENT(TM) . This significant step forward in immatics' core technology platform allows for the first time the direct quantification of tumor-associated peptides (TUMAPs) presented on the surface of tumor cells in comparison to peptides presented on healthy tissues. This will enable the identification of new antigens and novel targets which cannot be discovered by classical genomics and proteomics approaches.

XPRESIDENT(TM) combines mass spectrometry, genomics, biochemistry, and immunology and has already generated a range of cancer vaccine products in clinical (IMA901, IMA910) and preclinical development (IMA950). The platform has been developed and continuously improved since 2002, when it was first introduced by Toni Weinschenk, co-founder and Head of Discovery at immatics. Since then, the capacity of the platform has been expanded by factor of more than 10 and the sensitivity has reached the femtomolar level. The new direct quantification capacity is providing immatics with an additional important feature to speed up antigen and peptide identification and selection. As a result, the Company's discovery engine is generating validated candidates for further clinical development across a broad range of cancer indications at an unprecedented speed.

"With the improved XPRESIDENT(TM) version we will be able to identify completely novel antigens independent of conventional approaches such as genomics and proteomics.This is a significant step forward in our drug discovery abilities.", said Harpreet Singh, Chief Scientific Officer of immatics.

"The completion of the new version of our XPRESIDENT(TM) technology platform further increases and refines our ability to identify tumour-specific antigens and peptides.Both immatics and partner companies will be able to use this insight to develop more specific and targeted cancer immunotherapies." added Paul Higham, Chief Executive Officer of immatics.

Moreover, the immunomonitoring capabilities of the company have significantly increased. In the last two years, a state-of-the art immunomonitoring facility has been set up allowing the central and highly standardized assessment of immune responses of patients treated with cancer vaccines from all over Europe. This facility will also enable the delivery of extensive immunomonitoring and biomarker data for mid- and late-stage clinical trials.

About XPRESIDENT(TM)

The unique feature of the XPRESIDENT(TM) Discovery engine is its high sensitivity (down to femtomolar range) allowing the identification of TUMAPs directly from surgically removed primary cancer tissue. Thus, TUMAPs identified by XPRESIDENT(TM) are confirmed to be naturally presented by real human tumors. This is a significant advantage over using human cell lines as source material which often differ significantly from primary tumor cells in their respective pattern of antigen expression, processing and presentation.
immatics biotechnologies GmbH
immatics biotechnologies is an independent biopharmaceutical company dedicated to the development of active immunotherapies against cancer. immatics' therapeutic vaccines are based on multiple tumor-associated peptides (TUMAPs) which specifically stimulate the immune system against cancer cells. Its lead products - IMA901 for the therapy of renal cell cancer and IMA910 for the treatment of colon cancer - are currently investigated in international phase II clinical studies. Since its foundation in 2000, immatics has raised more than €54 million (US$ 72million) in private equity in two financing rounds. The company has a headcount of more than 65 people and is based in Tuebingen and Munich, Germany.
Diese Pressemitteilungen könnten Sie auch interessieren
Weitere Informationen zum Thema "Medizintechnik":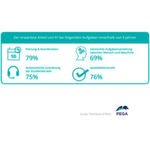 Künstliche Intelligenz sorgt für mehr Transparenz
Ei­ne in­tran­s­pa­ren­te Per­so­nal­po­li­tik hät­te durch den Ein­satz von Künst­li­cher In­tel­li­genz (KI) kaum noch ei­ne Chan­ce, meint et­wa ein Drit­tel al­ler Füh­rungs­kräf­te. Das zeigt ei­ne ak­tu­el­le Stu­die von Pe­ga­sys­tems.
Weiterlesen