HARTING Technology Group eyes business expansion in Poland
Cooperation with Digital Technology Poland (DTP) / HARTING Polska posts strong growth / Successful subsidiary garners multiple awards
Espelkamp / Hannover

, (PresseBox) -
The HARTING Technology Group continues to see bright opportunities in Poland and is eyeing to expand its business activities in the neighbouring country. At the commencement of the HANNOVER MESSE trade fair, HARTING and Digital Technology Poland (DTP Ltd) signed an agreement on the joint development and marketing of hardware and software components for the HARTING MICA. The first joint project was unveiled to Polish Prime Minister Beata Szydło and Federal Chancellor Angela Merkel. Poland is this year's partner country of the world's largest industrial trade show.

In conjunction with DTP, HARTING is continuing to develop the MICA® Energy to record energy consumption. "We are planning long-term cooperation with DTP. Together, we want to design and develop solution packages for Polish industry, and later market them globally," says Uwe Gräff, Managing Director of HARTING Electric and HARTING Electronics.

In addition, DTP has positioned itself as a specialist in the field of Augmented Reality (AR). Machine operators can use AR glasses to monitor machines and equipment on a production line. While the employee looks from one machine to the next, virtual operational devices and dashboards are displayed with all relevant data collected from the respective machine with the HARTING MICA®. "Information such as average utilisation and energy consumption are recorded and visualized directly on the machine," explains Andrzej Szajna, Executive Vice President Business Development, Digital Technology Poland (DTP Ltd.).

In addition to such inspection tasks, the MICA® can also use the AR glasses to display exactly which machine needs to be checked. During the trade fair, DTP will be demonstrating its AR solution at the HAII4YOU Factory, i.e. at the technology group's SmartFactory, at the HARTING stand (Hall 11 / C15) and at the Polish national stand (Hall 3 / E04).

HARTING Polska posts strong growth over 10 years

Poland's economy has developed dynamically since the transformation process of the 1990s. In October 2007, the subsidiary HARTING Polska Sp z.o.o. began operating in Wroclaw, the fourth largest city in the country. In the last ten years, HARTING Polska has grown strongly. The Polish subsidiary of the HARTING Technology Group now has 19 employees.

With components and solutions for mechanical engineering, robotics, automation, energy and transportation, customer-specific offerings and its comprehensive portfolio for Industry 4.0, HARTING has established itself as a leading technological partner in the country. In recognition of its dynamic growth in the first decade, HARTING Polska – which was the "National Subsidiary of the Year" of the HARTING Group in both 2012 and 2015 – has garnered several awards, and received the Forbes Diamond in 2016 and 2017 as well as the Gazele Biznesu prize in 2013-2016.

Most recently at Automaticon 2017, the largest trade fair in the country for industrial automation, HARTING Polska received the "Gold Medal" award for the successful HARTING MICA®. The company is also represented annually at Trako in Gdansk, one of the most important European trade fairs for the railway transport market.

Polish company Zmorph present at HARTING trade fair stand

Polish company Zmorph will present a 3D printer equipped with a har-flex connector at the HARTING stand. With its compact, modern design and versatile applications, it represents a multi-tool 3D printer: it prints, mills, cuts and engraves. During the trade fair, the 3D printer will be in use at the HARTING stand (Hall 11 / C15) on all five days of the event.
HARTING AG & Co. KG
The HARTING Technology Group is one of the world's leading providers of industrial connection technology for the three lifelines of Data, Signal and Power and has 13 production plants and branches in 43 countries. In addition, the company also produces retail checkout systems, electromagnetic actuators for automotive and industrial series use, as well as hardware and software for customers and applications in automation technology, robotics and transportation engineering. In the 2015/16 business year, some 4,300 employees generated sales of EUR 586 million.
Diese Pressemitteilungen könnten Sie auch interessieren
Weitere Informationen zum Thema "Hardware":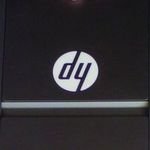 Verräterisches Logo: Aus "HP" wird "dy"
Of­fen­bar ar­bei­tet Hew­lett-Pa­c­kard (HP) an ei­ner Um­fir­mie­rung. Zum 1. April die­ses Jah­res sind Auf­nah­men des neu­en Lo­go-Schrift­zu­ges "dy" auf­ge­taucht. Die Ge­rüch­te­küche über die Hin­ter­grün­de bro­delt.
Weiterlesen