Creativity allowed! Even custom designed tickets and or vouchers printed with the GeBE-PIANO®
Germering

, (PresseBox) -
New in the lineup at GeBE Elektronik und Feinwerktechnik GmbH is the GeBE-PIANO®. This classy thermal printer for ticket and voucher printing features an optically pleasing design in black framed Aluminum. Moreover, the Piano is easy to operate and can handle multicard as well as singlecard printing. Paper width can be easily adjusted anywhere between 60 and 82.5mm. In the field, high print speed counteracts long waiting periods in high demand applications. No queues here! Extra Highlight: The GeBE-PIANO® is available for MAC operators.

Preprinted or individually designed

The GeBE-PIANO® is perfectly suited for individually designed vouchers, high end tickets or boarding cards, both ondemand as well as oninventory. A paper roll with matching paper roll holder can replace the card stack if so desired.

Would you like to print custom designs? Preprinted paper of up to 220µm thickness processes through the robust mechanism in no time. Currently GeBE offers two different standard tickets. However, you can create your own ticket design using Windows®, Linux or your MAC. Printing graphics is accomplished quickly with a stead speed of 200mm/second. At the end a laser controlled cutter makes sure cuts happen at the right spot and up to 2 million times!

Initial information: http://www.oem-printer.com/piano
GeBE Elektronik und Feinwerktechnik GmbH
GeBE Elektronik und Feinwerktechnik GmbH has been an accepted partner in the industry for decades as a manufacturer of professional output devices. Due to a reliable system for quality assurance and many years of experience in manufacturing, GeBE has created a large customer base for small and medium sized order quantities. With cleverly structured modular systems, solutions can be realized fast, easily, and costeffectively for our customers. GeBE supplies the components as well as complete devices, particularly thermal printers, controllers, and accessories.

Diese Pressemitteilungen könnten Sie auch interessieren
Weitere Informationen zum Thema "Hardware":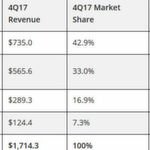 Umsatz konvergenter Systeme legt weltweit zu
Nach An­ga­ben der In­ter­na­tio­nal Da­ta Cor­po­ra­ti­on (IDC) ver­mel­de­te der "World­wi­de Quar­t­er­ly Con­ver­ged Sys­tems Tra­cker" für das vier­te Quar­tal 2017 ei­nen welt­wei­ten An­s­tieg der Um­sät­ze im Be­reich des kon­ver­gen­ten System­mark­tes um 9,1 Pro­zent. Hy­per­kon­ver­gen­te Sys­te­me out­per­for­men, an­de­re Teil­seg­men­te er­leb­ten Rück­gän­ge.
Weiterlesen