Fujitsu Simplifies and Speeds Cost-Efficient Transition to Windows 7
DeskView Advanced Migration and DeskView Load reduce infrastructure complexity
Regensdorf

, (PresseBox) -
Fujitsu today announces DeskView Advanced Migration, a new solution providing an easier and more costefficient way for enterprises to migrate to new hardware and the latest desktop operating systems such as Microsoft Windows 7.

DeskView Advanced Migration complements Fujitsu's Managed Workplace solution, which helps large enterprises constantly evaluate and update their IT infrastructures to make sure they are optimized both for best performance and efficiency.

As IT spending bounces back from the global economic crisis, estimates suggest there are more than 70 million outdated PCs and notebooks in the market. Many are running the Microsoft Windows XP operating system, which is nearing the end of its technical scope. This factor, along with the prospect of higher system maintenance costs for outofwarranty notebooks and PCs, underlines the need for enterprises to start planning a switch to updated PCs and notebooks running a newer operating system, such as Windows 7.

However, migration can be costly, time intensive and arduous, so companies must develop a strategy for keeping their IT infrastructure uptodate. Already optimized for Windows 7, DeskView Advanced Migration is designed to make the transfer of personal data and settings as fast, easy and seamless as possible. Once the process is complete, DeskView Advanced Migration securely deletes all data on old hard disk drives, allowing companies to sell redundant hardware without any risk of security breaches.

DeskView Advanced Migration offers a choice of upgrade paths from all current Microsoft Windows operating systems and is compatible with hardware from all Windows PC and notebook vendors. It is also ideal for companies planning a switch to cloudbased desktop computing, since it allows for the creation of a virtual image from old systems, and can upgrade virtual as well as physical machines.

For end users, the upgrade process is seamless and painless - all documents, applications and personalized settings remain intact and ready to use immediately, including customized applications as well as standard desktop software such as Microsoft Office, Outlook certificates, connection settings, personal folders and templates. In addition, Fujitsu offers a dedicated service element to migrate specific corporate customer data and settings for proprietary programs. Overall, this helps companies to eliminate the productivity loss that takes place when individuals must reestablish personalized settings on their new machines.

DeskView Load, part of Managed Workplace, was developed from internal Fujitsu bestpractices to simplify the process of personalizing individual desktop PCs and notebooks. From installing software and hardware, to deploying solutions and managing assets, Fujitsu's DeskView Load saves costs during rollouts as well as during reinstallations throughout the product lifecycle.

During the installation process, DeskView Load handles all hardware dependencies and eliminates the need for driver evaluation. It only requires one image for all configurations. Deploy and drop shipment to the enduser is also possible, and DeskView Load does not require a rollout center. Automated prestaging for additional processing in existing infrastructure saves companies time and resource in managing assets.

Rajat Kakar, Vice President Workplace Systems at Fujitsu Technology Solutions says: «Fujitsu continues to invest in R&D for products as well as services. We are realizing for ourselves the benefits of Managed Workplace solutions for our own infrastructure and are reaping the benefits of seamless conversion of our Workplace systems to Windows 7.»

DeskView Load and DeskView Advanced Migration are available immediately from Fujitsu in CEMEA&I. Pricing is both country- and module-specific.

For further information, please see: DeskView Advanced Migration: http://ts.fujitsu.com/dvam
DeskView Load: http://ts.fujitsu.com/deskviewload
Fujitsu Technology Solutions GmbH
Fujitsu is a leading provider of ICTbased business solutions for the global marketplace. With approximately 170,000 employees supporting customers in 70 countries, Fujitsu combines a worldwide corps of systems and services experts with highly reliable computing and communications products and advanced microelectronics to deliver added value to customers. Headquartered in Tokyo, Fujitsu Limited (TSE:6702) reported consolidated revenues of 4.6 trillion yen (US$50 billion) for the fiscal year ended March 31, 2010. For more information, please see: www.fujitsu.com.

About Fujitsu Technology Solutions

Fujitsu Technology Solutions is the leading European IT infrastructure provider with a presence in all key markets in Europe, the Middle East and Africa, plus India, serving large-, medium- and smallsized companies as well as consumers. With its Dynamic Infrastructures approach, the company offers a full portfolio of IT products, solutions and services, ranging from clients to datacenter solutions, Managed Infrastructure and Infrastructureasa-Service. Fujitsu Technology Solutions employs more than 13,000 people and is part of the global Fujitsu Group. For more information, please see: ts.fujitsu.com/aboutus.
Diese Pressemitteilungen könnten Sie auch interessieren
Weitere Informationen zum Thema "Hardware":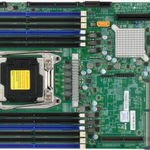 Supermicro stellt neue Blades und Storage-Systeme vor
Un­ter dem Stich­wort "res­sour­cen­scho­nen­de Da­ta­cen­ter-Tech­ni­k" be­zie­hungs­wei­se "We Keep IT Gre­en" hat Su­per­mi­cro kürz­lich für Cloud-Re­chen­zen­t­ren opti­mier­te die Mul­ti-No­de-Rech­ner "Big Twin" und "Su­per Bla­de" vor­ge­s­tellt so­wie ein nach ei­ge­nen An­ga­ben kos­ten­ef­fi­zi­en­te 45/60/90-"Bay Sto­ra­ge"-Sys­te­me, die den Le­bens­zy­k­lus von Ser­ver-Res­sour­cen ver­län­gern.
Weiterlesen