EV Group to Collaborate with Applied Materials On Thin Wafer Bonding Technology for 3D IC Development
St. Florian/Inn

, (PresseBox) -
EV Group (EVG) today announced a joint effort with Applied Materials, Inc. to develop wafer bonding processes for the manufacture of through-silicon vias (TSVs) in three-dimensional integrated circuit (3D IC) packaging applications. The two companies will be working together as members of the EMC-3D Semiconductor 3D Equipment and Materials Consortium.

Growing consumer demand for smaller, lower-power electronic devices with greater functionality is driving the need for TSV technology - a new approach to increase packaging density by vertically stacking chips. However, while conventional ICs use wafers approximately 750-um thick, 3D ICs require thinner wafers of about 100 um or less. Processed by themselves, these paper-thin wafers lose structural and edge integrity in high-temperature, high-stress processes such as metallization, which poses manufacturing challenges and impacts device reliability. EVG and Applied will work together to address these issues by bonding temporary carrier wafers to device wafers prior to thinning. The carriers will support the ultra-thin device wafers during subsequent process steps and can be removed afterwards.

The collaboration will explore the use of silicon and glass carrier wafers to determine substrate stability using EVG's wafer bonding and thin-wafer handling expertise and Applied's advanced etch, CVD, PVD and CMP process systems. The goal of this effort is to yield baseline processes and recommendations for the use of carrier-mounted wafers throughout the individual process steps offered by both parties. Results from the partnership will be shared with EMC-3D member companies.

"This is a continuation of our strategy to form alliances with leading equipment suppliers such as EVG to deliver fully-characterized TSV process flows to accelerate customers' time to market," said Hans Stork, group vice president and chief technology officer of Applied's Silicon Systems Group. "We look forward to working with EVG at Applied's Maydan Technology Center in advancing this disruptive technology and expediting the adoption of TSVs for mainstream manufacturing."

"We are excited to collaborate with an industry leader like Applied, to expedite temporary bonding and debonding capabilities for 3D IC development," said Markus Wimplinger, Corporate Technology Development and IP Director at EV Group "As a co-founder of EMC-3D, EVG is committed to the consortium's mission to develop cost-effective and manufacturable TSVs for advanced semiconductors. This opportunity to work with Applied complements those efforts and brings us closer to realizing 3D IC production for our customers."

About Applied Materials

Applied Materials, Inc. is the global leader in Nanomanufacturing Technology(TM) solutions with a broad portfolio of innovative equipment, service and software products for the fabrication of semiconductor chips, flat panels, solar photovoltaic cells, flexible electronics and energy efficient glass. At Applied Materials, we apply Nanomanufacturing Technology to improve the way people live. Learn more at www.appliedmaterials.com.

* CVD = chemical vapor deposition; PVD = physical vapor deposition; CMP = chemical-mechanical planarization
EV Group Europe & Asia/Pacific GmbH
EV Group (EVG) is a world leader in wafer-processing solutions for semiconductor, MEMS and nanotechnology applications. Through close collaboration with its global customers, the company implements its flexible manufacturing model to develop reliable, high-quality, low-cost-of-ownership systems that are easily integrated into customers' fab lines. Key products include wafer bonding, lithography/nanoimprint lithography (NIL) and metrology equipment, as well as photoresist coaters, cleaners and inspection systems.

In addition to its leading market share for wafer bonders, EVG holds a leading position in NIL and lithography for advanced packaging and MEMS. Along these lines, the company co-founded the EMC-3D consortium in 2006 to create and help drive implementation of a cost-effective through-silicon via (TSV) process for major ICs and MEMS/sensors. Other target semiconductor-related markets include silicon-on-insulator (SOI), compound semiconductor and silicon-based power-device solutions.

Founded in 1980, EVG is headquartered in St. Florian, Austria, and operates via a global customer support network, with subsidiaries in Tempe, Ariz.; Albany, N.Y.; Yokohama and Fukuoka, Japan; Seoul, Korea and Chung-Li, Taiwan. The company's unique Triple i-approach (invent - innovate - implement) is supported by a vertical integration, allowing EVG to respond quickly to new technology developments, apply the technology to manufacturing challenges and expedite device manufacturing in high volume. More information is available at www.EVGroup.com.




Diese Pressemitteilungen könnten Sie auch interessieren
Weitere Informationen zum Thema "Mikrotechnik":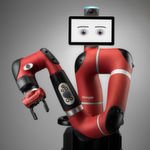 Elektronikindustrie setzt auf kollaborative Roboter
Im­mer mehr Un­ter­neh­men aus der Elek­tro­nik­in­du­s­trie set­zen auf kol­la­bo­ra­ti­ve Ro­bo­ter, das be­rich­tet Ro­bo­tik­her­s­tel­ler Re­t­hink Ro­botics. Die Ro­bo­ter über­neh­men re­pe­ti­ti­ve Auf­ga­ben, da­mit sich Mit­ar­bei­ter an­spruchs­vol­le­ren Ar­bei­ten zu­wen­den kön­nen.
Weiterlesen