Korea Aerospace Industries, LTD (KAI) and Eurocopter are proud to announce the on-time Rollout of the Korean Utility Helicopter prototype
Sacheon (Republic of Korea)

, (PresseBox) -
Three (3) years after the launch of the Korean Helicopter Program in 2006, Korean Aerospace Industries (KAI) and Eurocopter are proud to witness the on-time Rollout of the first Korean Utility Helicopter (KUH) prototype in the presence of the President of the Republic of Korea, Lee Myung-bak. This outstanding achievement is the result of an effort started in June 2006, for which every major milestone has been accomplished on time, preliminary design review, critical design review and dynamic test vehicle's flight.

The maiden flight of this prototype is planned for the early months of 2010 and a serial production will start for 245 helicopters for the Republic of Korea Army (ROKA). Scheduled to be deployed in 2012, the Korean Utility Helicopter (KUH) is a military transport helicopter in the eight metric ton class destined to replace existing utility helicopters in the South Korean Army fleet.

As a System Integrator of the KUH, KAI states; "It is significant to have the KUH rolled out as scheduled because it means our customer will have this advanced helicopter as initially planned. This KUH will be a leading helicopter in the near future, which adapts state-of-the-art technologies to enhance the survivability and the mission capability as a multi-mission helicopter and it will satisfy the worldwide needs chasing upgraded efficiency in various operations with these advantages."

Mr. Lutz Bertling, President and CEO of Eurocopter remarks at this occasion; "The on-time rollout of the Korean prototype today is an important milestone and a clear proof of our successful collaboration with KAI. It has been an enriching experience in terms of technological and multi-cultural exchange for both our teams. I am convinced that the Korean Utility Helicopter is a technological advancement within the field of military helicopters and that it will fully meet Korea's future needs".

As KAI's primary partner, Eurocopter has a dual role in this development : on one side develops and delivers gear boxes, rotor mast and autopilot for the KUH, on the other side it provides technical assistance through dispatching experts to Korea.

In 2007, a Memorandum of Understanding (MOU) has also been signed at the Seoul Airshow between KAI and Eurocopter for the creation of a Joint Venture company to commercialise the KUH in export market, which is estimated to reach an order of 300 helicopters worldwide.

About KAI

As a sole aircraft system integrator in Korea, KAI was established in October 1999 through consolidation of Korea's aerospace capabilities. Locating its headquarter in Sacheon, southern area of peninsula, KAI has 2,950 employees. KT-1 and T-50 have been produced through success of development and as one of main products, KAI launched a full scale development program of KHU on June 2006. Besides production of these aircraft, KAI has businesses in manufacturing aero-structures parts, aircraft upgrades and satellite. KAI has been progressively widening its export market with KT-1 and T-50 and expects also to grow its market potential through the KHP.
Airbus Helicopters
Established in 1992, the Franco-German-Spanish Eurocopter Group is a Division of EADS, a world leader in aerospace, defence and related services. The Eurocopter Group employs approx. 15,600 people. In 2008, Eurocopter confirmed its position as the world's No. 1 helicopter manufacturer in the civil and parapublic market, with a turnover of 4.5 billion Euros, orders for 715 new helicopters, and a 53 percent market share in the civil and parapublic sectors. Overall, the Group's products account for 30 percent of the total world helicopter fleet. Its strong worldwide presence is ensured by its 18 subsidiaries on five continents, along with a dense network of distributors, certified agents and maintenance centres. More than 10,000 Eurocopter helicopters are currently in service with over 2,800 customers in more than 140 countries. Eurocopter offers the largest civil and military helicopter range in the world. For providing the technical assistance for KHP, it established its own subsidiary in Korea, KHDS.
Diese Pressemitteilungen könnten Sie auch interessieren
Weitere Informationen zum Thema "Luft- / Raumfahrt":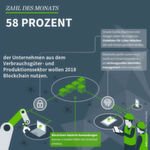 58 Prozent der Unternehmen wollen Blockchain nutzen
Die Mehr­heit der Un­ter­neh­men aus dem Ver­brauchs­gü­ter- und Pro­duk­ti­ons­sek­tor ist da­von über­zeugt, dass die Block­chain-Tech­no­lo­gie zu den viel­ver­sp­re­chends­ten In­no­va­tio­nen ge­hört und das Po­ten­zial hat, Wirt­schaft und Ge­sell­schaft tief­g­rei­fend zu ve­r­än­dern.
Weiterlesen