Eckert & Ziegler: Acquisition of Gamma-Service successfully completed
Albert Rupprecht new member of the Supervisory Board
Berlin

, (PresseBox) -
Eckert & Ziegler Strahlen- und Medizintechnik AG (ISIN DE0005659700), a Berlin-based company specializing in isotope technology for medical, scientific and industrial applications today signed an agreement to acquire its competitor Gamma-Service. Gamma-Service, a specialist in the manufacture of isotope technology products for medicine and industry, generated sales of approximately € 20 million in fiscal year 2016.

"With the purchase of essential parts of the Saxony-based Gamma-Service Group, we are strengthening our market position and focusing our energy now on the rapid and seamless integration of new businesses and employees, as well as the optimal servicing of our new and existing customers," explained Dr. Andreas Eckert, Chief Executive Officer of Eckert & Ziegler AG.

In addition, Albert Rupprecht was elected as a new member of the Supervisory Board at today's Annual General Meeting. Mr. Rupprecht is the education and research policy spokesperson for the CDU/CSU faction in the German Bundestag. He succeeds Prof. Dr. Nikolaus Fuchs, who is stepping down from his position at the end of the Annual General Meeting on May 31, 2017. The Supervisory Board and Executive Board thanks Prof. Dr. Fuchs for his commitment and accomplishments for Eckert & Ziegler AG.
Eckert & Ziegler Strahlen- und Medizintechnik AG
Eckert & Ziegler Strahlen- und Medizintechnik AG (ISIN DE0005659700) employs 760 people and is one of the world's largest providers of isotope technology components for radiation therapy and nuclear medicine.

Contributing to saving lives.


Diese Pressemitteilungen könnten Sie auch interessieren
Weitere Informationen zum Thema "Medizintechnik":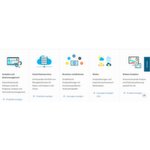 IBM spendiert IBM Watson Explorer und PowerAI Updates
Nach dem Launch der PO­WER9-CPU und des zu­ge­hö­ri­gen Ser­ver­sys­tems er­neu­ert IBM nun auch die kogni­ti­ve Soft­wa­re. Der Wat­son Ex­p­lo­rer, Cu­sto­mer Ex­pe­ri­en­ce Ana­lytics und Po­we­rAI ha­ben ei­ne Leis­tungs­s­tei­ge­rung und Er­wei­te­rung des Funk­ti­on­s­um­fangs er­fah­ren.
Weiterlesen