Ringling College of Art and Design Becomes First Educational Institution in the World to License CryENGINE 2®
Frankfurt

, (PresseBox) -
Ringling College of Art and Design and Crytek today announced the College has become the first higher education institution in the world to acquire a license to use Crytek's award-winning CryENGINE 2® middleware for educational purposes.

Remarking on the agreement, College President Dr. Larry Thompson said, "We are thrilled Crytek has chosen Ringling College as its inaugural partner for educational licensing. We view this CryENGINE 2® agreement as a validation of the exceptional and innovative academic program we have created here and feel privileged to have Crytek as one of our newest business partners."

The addition of CryENGINE 2® to the learning environment is tremendous according to the College's Computer Animation Department Head Jim McCampbell: "Our student body is a uniquely talented group which consists of some of the most amazingly gifted young artists, animators and designers to be found anywhere in the world, and our job as an institution is to prepare them to take their place in a future where computer games, 3D graphics and computer animations may well become the overwhelmingly dominant commercial and creative art form. They deserve to work with only the very best visual tools currently available, and no other real-time technology can compare to the CryENGINE 2® in either animation or scene rendering quality, and nothing else comes close to the ease of use and power of the new Sandbox 2TM level editor."

"No other game engine comes close to offering the visual fidelity of the CryENGINE 2®, which can produce the kind of high quality near-photorealistic output in real time that until now required expensive render farms days, or even weeks, to generate," McCampbell said. "With the CryENGINE 2®, Crytek has clearly created a product that is a full generation ahead of anything else, and truly defined what next generation means today. Licensing the CryENGINE 2® will ensure our graduates are prepared and experienced in working with a technology that is rapidly becoming a new industry standard, while allowing them the possibility to create virtually anything their imaginations can conceive," he concluded.

"We are extremely proud to have been chosen by such a highly regarded school as Ringling College of Art and Design as their game engine provider, and very pleased to have the school many regard as the best computer animation school in the USA become the first to join our new educational licensing program." said Faruk Yerli, managing director of Crytek, "The ranks of the Ringling alumni reads like a who's who of the computer graphics world, as do the companies they work for. Our own director of animation is an alumnus, which shows you how highly we regard their graduates. Now that Ringling will be training their students using our engine and tools, we look forward in the coming years to welcoming even more future graduate game designers and animators to our employ, as will the ever growing list of companies who have chosen to license the CryENGINE 2® for their own productions."
Crytek GmbH
Crytek GmbH ("Crytek") creators of the multi-award winning first person shooter Far Cry®, and the recent blockbuster hit Crysis®, awarded best PC Game of both E3 2007 and the 2007 Leipzig Games Convention, is an interactive entertainment development company with its headquarters located in Frankfurt Main, Germany and additional studios in Kiev, Ukraine and Budapest, Hungary. Crytek is dedicated to creating exceptionally high quality video games for the PC and next-generation consoles, powered by their proprietary cutting edge 3D-Game-Technology CryENGINE®2. For more information about Crytek, please visit www.crytek.com. Development teams who are interested in obtaining a commercial license for the CryENGINE® 2 middleware should mail their inquiries to cryengine@crytek.com.

Crytek, Crysis and CryENGINE are registered trademarks or trademarks of Crytek GmbH in the USA, Germany and/or other countries.
Diese Pressemitteilungen könnten Sie auch interessieren
Weitere Informationen zum Thema "Software":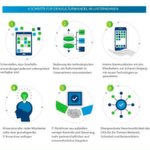 Wie mobile digitale Arbeitsplätze die Produktivität erhöhen
Mit­ar­bei­ter mit ei­nem mo­der­nen di­gi­ta­len Ar­beits­platz und ei­nem fle­xi­b­len mo­bi­len Zu­griff auf not­wen­di­ge An­wen­dun­gen stei­gern nicht nur die per­sön­li­che Pro­duk­ti­vi­tät, son­dern ver­wen­den auch we­ni­ger Zeit für die Er­le­di­gung ma­nu­el­ler Pro­zes­se, so zwei Kern­aus­sa­gen ei­ner welt­wei­ten Stu­die von For­bes In­sights im Auf­trag von VM­wa­re.
Weiterlesen