Leak-Testing at Very Low Test Pressures
Leak Tester Series CETATEST 815 Low Pressure with Electronically Controlled Pressure Ranges (± 5 mbar and ±50 mbar)
Hilden

, (PresseBox) -
A large number of leak tests with compressed air are performed at pressures ranging from 100 mbar to 10 bar and even higher, depending on the type of application.

Occasionally, we are faced with industrial applications requiring a very low test pressure. This is coupled with the necessity to combine positive and negative gauge pressures.

The implementation of a flexible low pressure regulation in both positive and negative gauge pressure ranges is a great technical challenge. Accordingly, there are no standard devices for low pressure testing on the market.

The well-established CETATEST 815 series of differential pressure leak testers has now been extended to include a low-pressure test device specially designed for these applications.

The solution developed for pressure ranges between ±5 mbar and ±50 mbar requires the use of a suitable electronic pressure controller as well as various modifications and optimizations.

The leak tester CETATEST 815 Low Pressure with a pressure range of ±5 mbar has proved very successful for the testing of lamps used in potentially explosive atmosphere. In this case, the lamps must be tested for vapor-tightness at a very low negative pressure of -3 mbar.

The documented results of 603 repeated measurements with a test part volume of several liters and target filling pressure of -3.00 mbar show the excellent repeatability of the device. In 455 cases, the filling pressure lay between -2.99 mbar and -3.01 mbar. This represents 75.6 % of all measurements. An absolute deviation of 0.01 mbar from the target filling pressure of -3.00 mbar corresponds to 0.3 % only of the target value. Only 16 measurements (equivalent to 2.7 % of the total number of measurements) showed larger deviations from the target pressure, but not exceeding 0.05 mbar. The results with positive gauge pressure are equally impressive.

This technical solution has also been extended to the pressure range of ±50 mbar. This increases the available pressure ranges of the CETATEST 815 devices by two additional pressure ranges: ±5 mbar and ±50 mbar. The user enjoys utmost flexibility thanks to the electronic pressure controller.

CETA Testsysteme GmbH will exhibit at the Control 2017 trade fair (09-12/05/2017, Stuttgart) in hall 4, stand 4131.
CETA Testsysteme GmbH
Solution Partner for industrial Leak Testing and Flow Measurement

The company CETA Testsysteme GmbH was founded in 1988 and is a manufacturer of physical measurement devices for leak testing and flow measurement. Compressed air and hydrogen are used as test media. These testing procedures can be integrated in the production line with high process reliability.

The test devices ("Made in Germany") are the company's own developments and the components and accessories (e.g. calibration standards) are manufactured in-house. This ensures that the high quality requirements for the internal modules are met right from the start.

Due to different test device technologies and a wide scope of pressure and measurement ranges nearly every test requirement can be fulfilled. An integrated control of the correct test device function guarantees a high standard of process reliability. The scope of products also includes semi-automatic test stands. The test devices are used by the customers for quality assurance, quality control and production assurance. The customers mostly come from the fields of automotive industry, medical technology, heating and air-conditioning industry, fittings and household appliances industry.

The company is certified according to DIN ISO 9001 and won in 2002 the quality award NRW in the category Industry. The calibration laboratory has been accredited 2004 as DKD calibration laboratory and 2014 as DAkkS calibration laboratory by the Deutsche Akkreditierungsstelle (DAkkS) - as follower of DKD. DAkkS calibration (in accordance with the standard DIN EN ISO 17025) complies with the requirements of the ISO / TS 16949 standard, valid in the automotive industry. CETA Testsysteme GmbH is the first German manufacturer of leak-testers whose devices are serially supplied with DKD/DAkkS calibration since 2004.

Since 2012 CETA has been certified by "an outstanding credit rating" (Bisnode Rating Certificate No. 318664026). The creditworthiness certificate is issued only if a creditworthiness index of 1 has been consistently demonstrated over the past 12 months and the valuation in the Bisnode database is stable.

The wide range of services includes consulting, feasibility analysis, commissioning, training, maintenance and calibration.

With cooperation partners in France, Spain, the Czech Republic, Hungary, Poland, Turkey, Korea, China, India, Thailand, Singapore, Indonesia and with thousands of test devices in use all over the world, CETA Testsysteme GmbH presents itself as a competent solution partner for industrial leak testing and flow measurement.


Diese Pressemitteilungen könnten Sie auch interessieren
Weitere Informationen zum Thema "Produktionstechnik":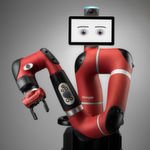 Elektronikindustrie setzt auf kollaborative Roboter
Im­mer mehr Un­ter­neh­men aus der Elek­tro­nik­in­du­s­trie set­zen auf kol­la­bo­ra­ti­ve Ro­bo­ter, das be­rich­tet Ro­bo­tik­her­s­tel­ler Re­t­hink Ro­botics. Die Ro­bo­ter über­neh­men re­pe­ti­ti­ve Auf­ga­ben, da­mit sich Mit­ar­bei­ter an­spruchs­vol­le­ren Ar­bei­ten zu­wen­den kön­nen.
Weiterlesen