75 Years "Stadt Kiel": MaK 8 MAu 423 Diesel Engine propels historic Ferry Boat into the Anniversary Year
Hamburg/Germany

, (PresseBox) -
During this year's Pentecost weekend the "MS Stadt Kiel e.V. " Society celebrated the 75th anniversary of its famous ferry boat with a big "open ship" event at Kiel's jetty "Seegartenbrücke". Not far from this place the newly built vessel was launched at the Friedrich Krupp Germaniawerft on May 26, 1934. At the same time, the 55th service anniversary of the MaK 8 MAu 423 marine diesel engine of 1954 was celebrated. Caterpillar Marine Power Systems (CMPS) is actively supporting the operation and maintenance of the historic vessel by being a member of the sponsoring Society.

The "Stadt Kiel" was the type ship of a series of newbuildings of the thirties, built for regular service on the Kiel fjord. After being sunk in World War II and rehabilitated in Denmark the vessel was again deployed by the public transport company Kieler Verkehrs AG (KVAG) on the route between the central railway station and the coastal resort of Strande. On its way, the "Stadt Kiel" also regularly passed the Friedrichsort jetty located directly at the factory premises of the then MaK Maschinenbau Kiel AG.

In 1954 the original Krupp diesel engine of type S II 6, a six-cylinder four-stroke engine delivering 300 hp, was replaced by the current, more powerful MaK 8 MAu 423 engine. This directly reversible eight-cylinder four-stroke engine delivers a power of 520 hp at a speed of 375 rpm and has been providing reliable propulsion power for 55 years now. A fascinating feature of this engine from today's point of view are its freely visible, still uncowled valve stems and rocker arms. With a cylinder diameter of 290 mm and a piston stroke of 420 mm the MaK MAu 423 engine reaches a swept volume of 27.7 l/cylinder. Its fuel consumption amounts to 169 g/hph. In spite of its reliable propulsion system the vessel was put out of service by the KVAG in 1976.

After a longer odyssey, diverse moorings and different private owners, the "Stadt Kiel" was finally taken over in 1983 by the Society founded shortly before and presented for the first time again to the public at the Kiel Week international sailing event of that year. After a basic overhaul at the Hamburg-based Jöhnk shipyard the museum ship was finally put into service again in 1990. Although since then the "Stadt Kiel" has only been in service for about 500 hours per year, regular maintenance is required to keep the ship serviceable.

Already in the nineties a trustful cooperation between the Society and the then Krupp MaK Maschinenbau GmbH developed in connection with the maintenance of the MaK 8 MAu 423 engine. One of the joint actions was the cylinder liner and cylinder head overhaul in 1991/92. In 1998 all cylinders were refurbished in the factory complete with liners, pistons and bearings. And also today's Caterpillar Motoren GmbH & Co. KG is actively supporting the operation of the vessel, e.g. by leasing the "Stadt Kiel" for company events.

As a technical monument of the Land of Schleswig-Holstein, the "Stadt Kiel" is at the same time a symbol of the success story of the MaK brand. To date, more than 10,000 MaK engines have been sold which regularly set new standards in terms of innovation, performance, and reliability. After the acquisition of Krupp MaK Maschinenbau GmbH by Caterpillar Inc. and the change in company name to Caterpillar Motoren GmbH & Co. KG all Cat® and MaK branded marine engines are today distributed by Caterpillar Marine Power Systems (CMPS) based in Hamburg.

The support of CMPS for the "Stadt Kiel" is also a commitment to the values of the MaK brand which are nowadays in demand more than ever in the area of passenger navigation. Whether it is a RoPax ferry or a cruise vessel, MaK M 43 C engines are increasingly part of the ship's equipment. And although current power demand with up to six engines and a total power of 80 MW (107.000 hp) is incomparably higher - MaK's combination of innovative technology, high reliability and low operating costs continues to be a guarantee of success.
Caterpillar Marine Power Systems
Caterpillar Marine Power Systems, with headquarters in Hamburg, Germany, groups all the marketing and service activities for Cat and MaK marine engines within Caterpillar Inc. The organisation provides premier power solutions in the medium- and high-speed segments with outputs from 93 to 16,000 kW in main propulsion and 10 to 7,680 kWe in marine generator sets. The sales and service network includes more than 2,100 dealer locations world-wide dedicated to support customers in ocean-going, commercial marine and pleasure craft wherever they are.

More information is available at: www.Marine.Cat.com.

For more than 80 years, Caterpillar Inc. has been making progress possible and driving positive and sustainable change on every continent. With 2008 sales and revenues of $51.324 billion, Caterpillar is the world's leading manufacturer of construction and mining equipment, clean diesel and natural gas engines and industrial gas turbines. The company also is a leading services provider through Caterpillar Financial Services, Caterpillar Remanufacturing Services, Caterpillar Logistics Services and Progress Rail Services.

More information is available at: www.Cat.com.

CAT, CATERPILLAR, their respective logos, "Caterpillar Yellow" and the POWER EDGE trade dress, as well as corporate and product identity used herein, are trademarks of Caterpillar and may not be used without permission.
Diese Pressemitteilungen könnten Sie auch interessieren
Weitere Informationen zum Thema "Produktionstechnik":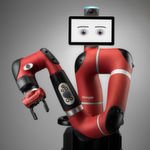 Elektronikindustrie setzt auf kollaborative Roboter
Im­mer mehr Un­ter­neh­men aus der Elek­tro­nik­in­du­s­trie set­zen auf kol­la­bo­ra­ti­ve Ro­bo­ter, das be­rich­tet Ro­bo­tik­her­s­tel­ler Re­t­hink Ro­botics. Die Ro­bo­ter über­neh­men re­pe­ti­ti­ve Auf­ga­ben, da­mit sich Mit­ar­bei­ter an­spruchs­vol­le­ren Ar­bei­ten zu­wen­den kön­nen.
Weiterlesen