New Tonalin® CLA Study Offers Compelling Benefits for Post-Menopausal Women with Type 2 Diabetes
La Grange, Ill.

, (PresseBox) -
Cognis' Tonalin® CLA is a safe and effective way to reduce body fat mass and preserve lean muscle mass in post-menopausal women with type 2 diabetes, according to the first study of its kind published in the American Journal of Clinical Nutrition(1).

Although the fat reduction effect of CLA has been observed in several studies of both men and women with varying degrees of body mass, this study is the first to demonstrate the body fat-lowering effects of Tonalin® CLA in obese postmenopausal women. This is important because postmenopausal women are at elevated risk of weight gain and body fat gain, which increases risk for several chronic diseases including metabolic syndrome.

This new research for the first time showed that taking daily Tonalin® supplements totaling 6.4 grams of CLA significantly lowered body weight, body mass index (BMI), and total adipose mass without affecting lean muscle mass in postmenopausal women with type 2 diabetes who were not on a weight-loss diet and activity plan.

"We now have compelling scientific evidence suggesting that CLA could help diabetics manage their body weight over the long term," said the study's principal investigator, Dr. Martha Belury, the Carol S. Kennedy Professor at Department of Human Nutrition at Ohio State University. "With escalating numbers of diabetics worldwide, our research indicates that CLA could be safe and effective in helping to reduce body fat, a contributing factor to this rapidly growing disease."

Just in the United States alone, over 800,000 people each year are newly diagnosed with type 2 diabetes mellitus (T2DM)(2). Of the 15.7 million people with diabetes, more than half (8.1 million) are women and 90-95% of them have Type 2 diabetes. Obesity, defined as excessive adipose tissue (fat mass), is a major contributing factor to the development of Type 2 diabetes.

Researchers gave the 55 obese and menopausal participants with type 2 diabetes (average 10 years of diabetes history) safflower oil or Tonalin® CLA for 16 weeks in the randomized, placebo-controlled crossover study. CLA supplementation reduced body weight (1-1.6 kg), BMI and total adipose mass without altering lean mass. Inflammation markers and insulin resistance were not affected.

Dr. Belury explained that because BMI had not yet reached a plateau at the end of the 16-week period, it is possible that further reductions in BMI are achievable with a longer period of CLA supplementation. "The CLA-induced weight loss in our study can be attributed to the reduction of adipose tissue mass since a change in lean mass was not observed. Importantly, the adipose-lowering effect of CLA occurred without a change in lean tissue mass, which is particularly significant because postmenopausal women are at risk for losing lean tissue mass."

Doris Bell, Ph.D., Senior Research Platform Manager at Cognis and a co-author of the study, added, "This trial adds to the totality of evidence and confirms the results of more than a dozen clinical studies demonstrating the fat-loss benefits of Tonalin® CLA in lean, overweight or obese people."

For the study, Cognis provided an unrestricted grant (with no influence on the design or interpretation of the research) and Tonalin® CLA supplements.

About Tonalin® CLA:

Tonalin® is the original brand of CLA and is an exclusively licensed product of the Cognis Group. CLA is a polyunsaturated, conjugated fatty acid that is a natural part of the human diet, found primarily in meat and dairy products. Cognis produces Tonalin® CLA through a proprietary process that converts linoleic acid from safflowers into CLA, providing the highest quality of CLA available. Tonalin® contains the lowest amount of non-naturally occurring isomers, a patent-protected attribute that provides customers with the highest levels of active CLA isomers.

In July 2008, Tonalin® CLA achieved FDA GRAS (generally recognized as safe) status for its safe use in a wide range of functional foods and beverages. Cognis offers the food industry one of the most extensive lines of CLA, a naturally sourced, non-stimulant ingredient clinically proven to safely reduce body fat and improve body composition.

Tonalin® CLA is available in several product forms - oil, water-dispersible powder and emulsions - which offer food manufactures a broad range of options and easy processing for their new products.

Worldwide Recognition for the Tonalin® Brand of CLA

The National Institutes of Health Office of Dietary Supplements in its Annual Bibliography of Significant Advances in Dietary Supplement Research (2004) included the landmark Tonalin® CLA study by Dr. Jean-Michel Gaullier as one of 25 "exemplary" papers. Cognis is the recipient of The 2007 Global Frost & Sullivan Award for Brand Development Strategy Leadership in the CLA market. "More studies on CLA and body composition have been published using Tonalin® than any other CLA brand," noted Frost & Sullivan Research Analysts. Tonalin® CLA also has been recognized as "Health Product of the Year in several countries, including Finland and Spain.

(1) Norris LE, Collene AL, Asp ML, Hsu JC, Liu LF, Richardson JR, Li D, Bell D, Osei K, Jackson RD, Belury MA. Comparison of dietary conjugated linoleic acid with safflower oil on body composition in obese postmenopausal women with type 2 diabetes mellitus. Am J Clin Nutr. 2009, 90:1-9. [Epub ahead of print]
(2) US Centers for Disease Control and Prevention
BASF Personal Care and Nutrition GmbH
Cognis (www.cognis.com) is a worldwide supplier of innovative specialty chemicals and nutritional ingredients, with a particular focus on the areas of wellness and sustainability. The company employs about 5,900 people, and it operates production sites and service centers in 30 countries. Cognis has dedicated its activities to a high level of sustainability and delivers natural source raw materials and ingredients for food, nutrition and healthcare markets, and the cosmetics, detergents and cleaners industries. Another main focus is on products for a number of other industries, such as coatings and inks, lubricants, as well as agriculture and mining.

Cognis is owned by private equity funds advised by Permira, GS Capital Partners, and SV Life Sciences. In 2008, Cognis recorded sales of about 3 billion euros and an Adjusted EBITDA (operating result) of 351 million euros.

Diese Pressemitteilungen könnten Sie auch interessieren
Weitere Informationen zum Thema "Medical Technology":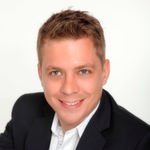 Mit Künstlicher Intelligenz auf zu neuen Ufern
Das In­ter­es­se an Künst­li­cher In­tel­li­genz, ma­schi­nel­lem Ler­nen und De­ep Lear­ning nimmt deut­lich zu. Doch nur we­ni­ge Un­ter­neh­men ver­fü­gen über das Know-how, um die da­für er­for­der­li­chen Ar­chi­tek­tu­ren zu kon­zi­pie­ren und zu im­p­le­men­tie­ren. Va­li­dier­te Lö­sungs­pa­ke­te sch­lie­ßen die­se Lü­cke und er­mög­li­chen Un­ter­neh­men in vie­len Bran­chen die Er­sch­lie­ßung neu­er Ge­schäfts­po­ten­zia­le.
Weiterlesen