Arburg presents cost-effective automation solutions
Compact production cell with integrated assembly steps / Six-axis robotic system with simple programming thanks to Selogica
Loßburg

, (PresseBox) -
The 52nd International Engineering Fair MSV with over 1,500 exhibitors will take place in Brno in the Czech Republic from 13 to 17 September 2010. At Arburg, the focus will be on automated injection moulding. Exhibits on Stand 33 in Hall G1 will include a complex production cell consisting of a vertical Allrounder 375 V and a sixaxis robotic system. This example of automation will demonstrate injection moulding of inserts with downstream assembly to trade visitors from around the world. The simple programming of a sixaxis robotic system using the Selogica user interface will be demonstrated on a separate clamping unit. Also on show, will be the Allrounder 720 S Golden Edition hydraulic injection moulding machine. In combination with the linear Multilift Select robotic system, it offers a production unit that demonstrates the particularly costeffective, automated production of a beer tankard.

"In order to make their production even more economical, plastics processors are increasingly looking for automated injection moulding solutions," says Jaroslav Novak, Subsidiary Manager in the Czech Republic. Arburg's offering includes simple integration of linear as well as sixaxis robotic systems and extends to highly complex production cells with extensive peripherals. "With the Selogica control system, we offer a central interface between man and machine that now also integrates the complex movement sequences of a Kuka sixaxis robotic system, so that machines and robots can be programmed and centrally controlled via a standardised user interface."

Allrounder 375 V: Automated complex production cell with sixaxis robotic system

The first exhibit, a vertical Allrounder 375 V with a clamping force of 500 kN and a size 170 injection unit, is integrated in a complex production cell. This cell is set up to produce a toy buggy weighing 18 grams. All four components are produced in one cycle lasting 30 seconds. A sixaxis robotic system inserts the two metal axles, removes the sprue and the moulded components and then assembles them. The implementation of the Selogica user interface in the robotic control system brings the user decisive advantages: after just one brief training session, he can independently program and modify robotic sequences. Moreover, the significantly reduced setup complexity results in shorter setup times and, above all, permits effective reduction of the application's cycle times through synchronisation of robot and machine movements.

Handson programming of sixaxis robotic systems

"Never before has it been so easy to program a sixaxis robotic system; even complex sequences can be represented with ease," stresses Jaroslav Novak. "The installation technician defines the movements of the sixaxis robotic system within his familiar operating environment quickly, easily and, above all without external help, using the graphical sequence." To demonstrate this, the trade visitors can gain handson experience on a model consisting of a clamping unit and a sixaxis robotic system and test the programming.

The entire robotic sequence is first entered in a similar manner to the machine sequence using a separate operating unit. Those who are familiar with Selogica will have no problems with production preparation of the robotic system. The intuitive programming work makes it easier to effectively regulate the machine, robotic system and the plant. This not only makes the process of production preparation faster, but also much more costeffective.

Allrounder 720 S with Multilift robotic system

A further exhibit that stands for economy in the production of moulded parts is the Allrounder 720 S Golden Edition. With technologically superior standard equipment, this injection moulding machine offers a particularly attractive price/performance ratio. The exhibit, with a clamping force of 3,000 kN and a size 1300 injection unit, produces a beer tankard weighing 184 grams in a cycle time of 50 seconds. The Multilift Select servoelectric robotic system then removes the tankard, performs a quality inspection and then places it on a conveyor belt.

Comprehensive range of products and services from Arburg

"Complex production cells with integrated upstream and downstream operations are becoming increasingly important, especially with regard to economy and quality," says Jaroslav Novak and adds: "with our competence in this area, we offer our customers all the advantages of the Arburg modular component system." The Arburg project department designs, constructs and commissions individual customer and sectorspecific automation solutions as a main contractor. The project team from the German headquarters in Lossburg will be supported in the Czech Republic by their own project engineer. Efficiency in injection moulding production can be further improved through advice on applications engineering and preventive maintenance of the machine fleet.
ARBURG GmbH + Co KG
Arburg, a German machine construction company, is one of the leading global manufacturers of injection moulding machines for plastics processing with clamping forces between 125 kN and 5,000 kN. Fields of application include the production of plastic parts for motor vehicles, communications and consumer electronics, medical technology, domestic appliances and packaging. The product range is completed by robotic systems, complex projects and other peripherals. Arburg's operations are coordinated by an integrated management system and are DIN EN ISO 9001 and 14001 certified. Arburg is represented by its own organisations at 32 locations in 24 countries and by trading partners in more than 50 countries. However, production takes place exclusively in the parent factory in Lossburg (Germany) - with the mark of quality "made by ARBURG - made in Germany". From a total of more than 2,000 Arburg employees, around 1,700 work in Germany. About 330 further employees work in Arburg's organisations around the world.

Further information about Arburg can be found at www.arburg.com

Diese Pressemitteilungen könnten Sie auch interessieren
Weitere Informationen zum Thema "Maschinenbau":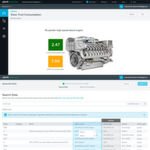 Splunk wertet industrielle IoT-Daten aus
Mit Sp­lunk In­du­s­trial As­set In­tel­li­gen­ce (IAI) stellt der Spe­zia­list für Ma­schi­nen­da­ten sei­ne ers­te Lö­sung für das In­ter­net der Din­ge (IoT) vor. Sie er­mög­licht die Aus­wer­tung in­du­s­tri­el­ler IoT-Da­ten.
Weiterlesen