The 'Best-of-the-Best' Supercomputers Leverage AMD Opteron(TM) Processors
AMD Opteron(TM) processors are in more of the 20 highest-performing supercomputers on the Top500 Supercomputer Sites list than any other processor
Hamburg

, (PresseBox) -
At the International Supercomputing Conference, AMD (NYSE: AMD) today announced that AMD Opteron(TM) processors continue to power many of the highest-performing supercomputers in the world, including the top two overall.

AMD Opteron processor highlights from the latest Top500 Supercomputer Sites list include:

- For the third straight time, the AMD Opteron processor helps power the number one "Roadrunner" supercomputer;
- The Cray "Jaguar" supercomputer based on Quad-Core AMD Opteron processors at Oak Ridge National Labs is number two;
- AMD is utilized in nine of the top 20 supercomputers, more than any other processor provider;
- Four of the top 10 supercomputers use AMD Opteron processors;
- The AMD Opteron processor powers 20 Cray supercomputers, including six in the top 25;
- The recently launched Six-Core AMD Opteron processor (formerly code-named "Istanbul") has already appeared in two Cray XT5 supercomputers;
- The top two academic research supercomputers are based on Quad-Core AMD Opteron processors - "Kraken" at the University of Tennessee is number six and "Ranger" at the Texas Advanced Computing Center (TACC) is number eight.

The semi-annual Top500 Supercomputer Sites list determines its rankings based on the LINPACK benchmark. Recently, Advanced Clustering Technologies published LINPACK scores based on the Six-Core AMD Opteron processor which demonstrate a remarkable cost-per-GFLOP of $35.21.

Supporting Resources

- Photos of NICS Supercomputer
- Latest AMD Opteron Processor Benchmarks
- @Work Blog Post from John Fruehe
- Video from Cray discussing the benefits of "Istanbul"

[1] Based on peak performance of 99.38 GFLOPS divided by node cost of $3,500 as reported on http://www.advancedclustering.com/company-blog/high-performance-linpack-on xeon-5500-v-opteron-2400.html as of June 16, 2009. Configuration: Six-Core AMD Opteron processor Model 2435 (2.6GHz), Supermicro H8DMT-IBX, 16GB DDR2-800, 250GB SATA II @ 7200 RPM w/16MB cache
AMD GmbH
Advanced Micro Devices (NYSE: AMD) is an innovative technology company dedicated to collaborating with customers and technology partners to ignite the next generation of computing and graphics solutions at work, home and play. For more information, visit http://www.amd.com.


Diese Pressemitteilungen könnten Sie auch interessieren
Weitere Informationen zum Thema "Hardware":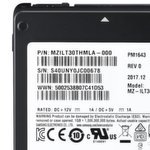 Samsungs quetscht über 30 Terabyte in eine 2,5-Zoll-SSD
Neu­es SSD-Top­mo­dell von Sam­sung fasst dop­pelt so vie­le Da­ten und ist dop­pelt so sch­nell wie der bis­he­ri­ge Re­kord­hal­ter von 2016. Der stammt eben­falls von Sam­sung.
Weiterlesen