ATI FirePro(TM) S400 Synchronization Module Creates Smooth Virtual Canvas For Pro Video and Broadcast Professionals Rendering and Synchronizing Critical Video and 3D Applications
New AMD offering professional high-end graphics accelerators with Genlock for video camera single source applications and Framelock for multiple 3D displays
Sunnyvale, Calif.

, (PresseBox) -
To meet the demanding synchronization needs of today's professionals, AMD (NYSE: AMD) introduced the ATI FirePro(TM) S400 Synchronization Module, providing framelock and genlock synchronization for demanding broadcast, video editing, visualization, simulation and rich display applications.

Genlock enables video and graphics feeds from various devices - such as cameras, recorders, mixers, keyers and more - to "lock" to an externally generated signal, helping avoid jumping, flicker or scan lines that commonly arise when switching video sources.

The ATI FirePro S400 is a single card solution with a dedicated processor capable of supporting clock-accurate, simultaneous GPU synchronization that professional video, broadcast, simulation and rich display applications demand, perfect for displays used in broadcast applications, or non-linear editing suites.

Framelock synchronizes display output and 3D rendering across multiple graphics cards resulting in a smooth output across multiple displays or video projectors to create a smooth virtual canvas.

ATI FirePro S400 delivers framelock functionality by combining synchronized display output and simultaneous 3D buffer swapping, to help ensure GPUs in connected systems present their outputs in perfect lock-step.

The new ATI FirePro Synchronization Module supports four professional graphics cards, features a modern Serial ATA power connector and allows ATI FirePro graphics accelerators to receive signals and synchronize to virtually any video input source, including PAL and NTSC standard definition video black burst, high definition TV tri-level, TTL and SDI sync.

The upgradeable firmware of the ATI FirePro S400 module is designed to allow future updates to be deployed without requiring internal access to the host computer, saving time and effort by allowing updates to be deployed in the field.

Compatible with ATI FirePro(TM) V8750 3D graphics accelerators targeted at the high-end professional graphics market, and supporting existing software interfaces, the ATI FirePro S400 is a drop-in solution, fitting into standard PCI or PCIe slots and compatible with virtually any type of chassis or motherboard.

Pricing and Availability

- ATI FirePro S400 is currently available at the MSRP of $799 and can be purchased from system integrators and channel partners worldwide.

- ATI FirePro 3D workstation graphics accelerators and ATI FirePro S400 have been engineered to deliver innovation and reliability for a wide range of professional operating environments, including Windows® XP, Windows Vista, Windows 7 and Linux. The unified driver, which supports all ATI FirePro workstation products, helps reduce the total cost of ownership by simplifying installation, deployment and maintenance.

Supporting Quotes

"Until now, synchronization modules available in the market only supported two graphics cards at a time, synchronized with a limited range of video outputs and were powered by older and increasingly outdated technology," said Janet Matsuda, senior director, AMD Professional Graphics. "Professionals need a module that can meet the high demands of current video and 3D applications with the flexibility to address new demands down the road, and the ATI FirePro S400 does just that at an affordable price."

"Customers have demanding synchronized video and displays applications that require top notch operation today while being assured of a path of continued excellence for the future. The ATI FirePro S400 from AMD helps meet that need," said Bob Kuehne, CEO, Blue Newt Software. "Blue Newt has worked with AMD from the early stages, and we have been delighted by the expertise and support from the AMD team in building this product. Our customers will appreciate the exceptional performance provided by the combination of the ATI FirePro S400 synchronization module and the ATI FirePro V8750 graphics accelerator."

Supporting Resources

- ATI FirePro(TM) 3D workstation graphics accelerators (http://www.amd.com/us/products/workstation/graphics/ati-firepro-3d/Pages/ati-firepro-3d.aspx)
- Follow AMD professional graphics updates on Twitter: @ATIFirePro (http://twitter.com/ATIFirePro)
- For general AMD updates on Twitter follow: @AMDUnprocessed (http://twitter.com/AMD_Unprocessed)
AMD GmbH
Advanced Micro Devices (NYSE: AMD) is an innovative technology company dedicated to collaborating with customers and technology partners to ignite the next generation of computing and graphics solutions at work, home and play. For more information, visit http://www.amd.com.


Diese Pressemitteilungen könnten Sie auch interessieren
Weitere Informationen zum Thema "Hardware":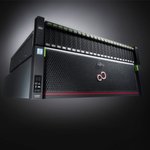 Fujitsu stellt nächste Storage-Generation vor
Mit neu­en "Eter­nus"-All-Flash- und Hy­brid-Sto­ra­ge-Sys­te­men hat Fu­jit­su die nächs­te Ge­ne­ra­ti­on sei­ner Spei­cher­sys­te­me prä­sen­tiert. Sie sol­len sch­nel­ler, spei­cher­stär­ker und kos­ten­ef­fi­zi­en­ter ar­bei­ten.
Weiterlesen